Back to our blog
Why invest in wellbeing?
Emma Ferris, Head of Evaluation at The Outward Bound Trust
It's been both a challenge and a delight to write this paper on how Outward Bound builds wellbeing in young people. Challenging because wellbeing is such an intangible topic and can mean many different things. But delightful because it's become so clear that Outward Bound enhances wellbeing in so many different ways. I'm wondering why it's taken us so long to write it!
Why invest in wellbeing?
Wellbeing has been a huge interest of mine for a long time now – both personally and professionally – because it's about how we flourish as individuals. We all want to be living our very best lives – feeling safe and secure in our relationships, feeling positive and able to achieve our goals, and that we can cope with difficulties and setbacks when they arise. But whether through the circumstances we grow up in or events that happen in our lives, some or even all of these things can feel out of reach and many of us can feel that we're struggling through life.

Understanding what drives wellbeing can help us make better choices about how we spend our time, what we prioritise and what we choose to avoid. But I think there's often fear that an investment in wellbeing is a bit of an indulgence – a "nice to do" if time or budgets allow but not a priority. However, if we see wellbeing as flourishing – achieving our potential, having supportive and fulfilling relationships and showing resilience in the face of setbacks – surely it goes to the heart of everything we want for this and future generations of young people?

Wellbeing in action
So as young people start moving forwards with their lives after the chaos and disruption caused by the pandemic, I think it's more important than ever that they're given opportunities not only to boost their wellbeing but to experience first-hand what wellbeing means for them – so they can make better choices about how to live well – both now and in the future.
If you find yourself at an Outward Bound centre at the end of the week and talk to young people about their course, you'll immediately see huge amounts of pride, joy, energy and enthusiasm. With new friends, shared memories and a massive sense of accomplishment, it's no surprise they feel positive, happy and upbeat. Experiencing positive emotions is one part of wellbeing and after the two years that young people have just been through, there's no doubt in my mind that an Outward Bound course will go a long way to restoring the energy and enthusiasm that many have lost.

Perhaps more importantly though, you'll also see young people more willing to tackle challenges and less afraid of making mistakes than they were when they arrived. More confident about making friends and more supportive of each other. You'll see young people with more self-belief – where they're more aware of what they're capable of achieving if they put in enough effort and resist the desire to give up too soon.
These are all examples of the personal resources young people are able to develop at Outward Bound - resources that are essential for them to feel that they can function well on a day-to-day basis.

Just two things ...
In writing the paper on how Outward Bound builds wellbeing, two things have stood out for me in particular:

1. Relationships are critical to wellbeing
At every stage of writing the paper I was struck by just how significant relationships are to wellbeing – and in turn how central they are to every Outward Bound course.
The tasks and challenges that young people work through require huge amounts of support, encouragement and trust and the bonds they develop as they overcome these challenges together can last for many years. For some young people, it can be the first time they've experienced support and encouragement of any kind, and it can be life-changing. In this blog we look specifically at the impact our instructors have on building and demonstrating the value of relationships.

2. Fear of failure can destroy wellbeing
Secondly, fear of failure is incredibly destructive to wellbeing. One of the most startling things I heard from Outward Bound instructors who I spoke to as part of my research for the paper was the crippling fear of failure that many young people arrive with at the start of their course. It makes them doubt their abilities, hold back from trying anything new and give up far too soon. Something that Outward Bound does incredibly well is change young people's relationship with the idea of failure. Helping them see mistakes as a learning experience from which you can try again until you succeed takes the emotional charge out of any fear of failure – and means they're more prepared to take risks when trying something new or set more ambitious goals. In this blog, we hear from David about how he tackled his fear of failure, I wish I'd learnt this as a teenager!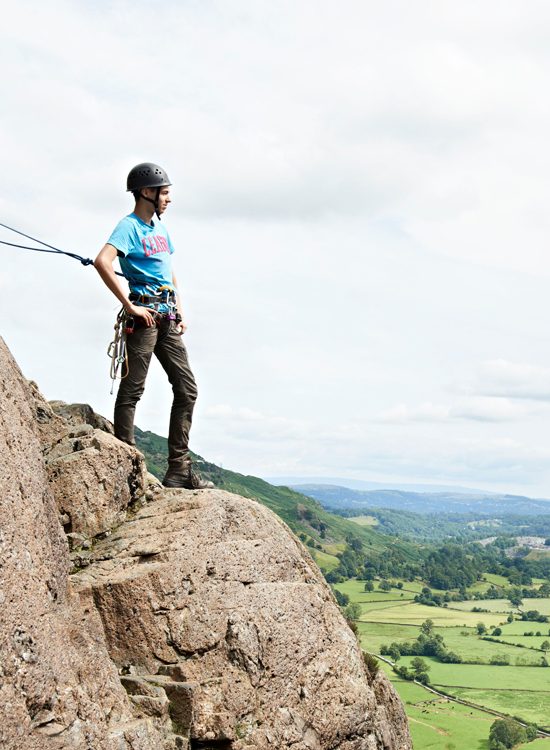 Join our free webinar
On Thursday 28 April I'll join young people, educators and employers on a webinar about Outward Bound's approach to building wellbeing in young people. We'll look at:

What is the reality facing young people in 2022?
What do they need to feel good and function well?
Can outdoor learning accelerate good wellbeing?
Feeling good and functioning well
Download and read our impact report which explains how learning and adventure in the wild can improve young people's personal and social wellbeing.
Join our webinar: Thursday 28 April
This webinar is for you if interested in supporting young people and their wellbeing - we're hosting two webinars specifically looking at education and early careers.