Success!
Thank you for donating to The Outward Bound Trust!. Your first payment has been authorised and your subscription has been setup!
If you need to change your subscription details, please call us on +44 (0) 1931 740 000.
Failed!
Sorry, it looks like something went wrong whilst your payment was being processed. Please try again.
If you need help, please call us on +44 (0) 1931 740 000.
uk youth:

wellbeing

at

crisis point
Wellbeing: a crisis point?
The mental health and wellbeing of many young people has reached crisis point following the Covid-19 pandemic.
UK youth wellbeing is at a 10 year low, with 1 in 2 saying their mental wellbeing has got worse in the past five years*. Their happiness is declining, anxiety increasing and they have one of the lowest levels of wellbeing compared to our European neighbours**.
working to a healthier future
Wellbeing is about feeling good and functioning well. Have both and you'll be considered to be flourishing.
You can equip young people with the skills they need for good wellbeing. Behaviours that must be developed before adulthood and which are needed for them to live healthy lives, thrive at work and contribute well to society.
Read our report
Download our report looking at how learning and adventure in the wild can improve young people's wellbeing.
Join our webinar
Join our webinar on Thursday 28 April to hear more about wellbeing, nature, young people and Outward Bound in 2022.
Get in touch
To talk to our fundraising team about supporting young people's wellbeing, please fill in this short form.
Feel good and function well
Fear of failure and an overwhelming pressure to succeed, along with factors such as rising poverty, are just some of the things contributing to a dramatic decline in wellbeing.
At Outward Bound, we've examined how our courses support good wellbeing. Giving young people the opportunity to build confidence and self-belief, to improve their relationships with others and deal with change gives them tools for life. Skills like these are learnt at Outward Bound, behaviours that will help them feel good and function well as individuals – the very foundation of wellbeing.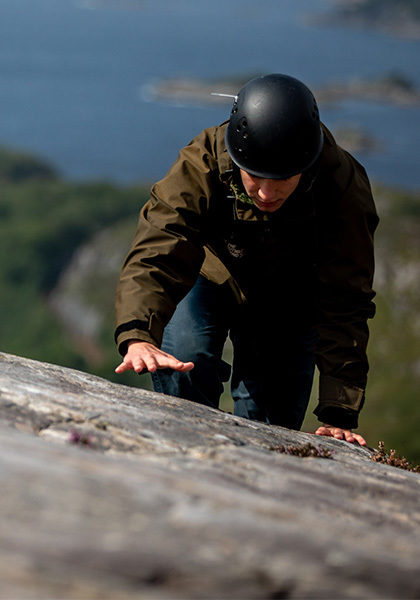 Tori's story
Tori was 14 in March 2020. After three lockdowns she was scared to leave the house and anxious about going back to school. But with the help of Outward Bound, she has rediscovered her confidence and her anxiety has diminished.
"It's made me see the bigger picture and see that maybe the world isn't all that bad. Outward Bound taught me to really see the beauty in nature and there are incredible parts of the world out there, and nice people who will help you to be you."