Success!
Thank you for donating to The Outward Bound Trust!. Your first payment has been authorised and your subscription has been setup!
If you need to change your subscription details, please call us on +44 (0) 1931 740 000.
Failed!
Sorry, it looks like something went wrong whilst your payment was being processed. Please try again.
If you need help, please call us on +44 (0) 1931 740 000.
Employee

Ambassador

Information
Thank you for volunteering to join Outward Bound as an employee ambassador.

As an employee ambassador you'll play a critical role in helping the young people to link what they learn with us with skills they'll need in their future. So whatever your reason for volunteering, we'd like to say THANK YOU for giving up your time to join us.

To help you prepare we've got some info just for you.
Your role as an employee ambassador
You'll work alongside an experienced Outward Bound instructor who will be delivering an adventurous learning programme to a group of 12 young people. Health, safety and learning outcomes are the responsibility of the Outward Bound team, but aside from this, you can get as involved as you'd like - whether that's watching from the sidelines or fronting review sessions. Your instructor will talk to you about your involvement before the group arrive, so don't worry too much at this stage.
Your role will align with your instructor, so when they have downtime in the evenings, you do too. You won't be required to get involved in pastoral care out of activity time (including bedtime) or discipline (on the rare occasion it's needed). These are the responsibility of the Outward Bound team and the visiting staff accompanying their school / youth group.
Coming to Outward Bound is a great opportunity for you to try something new, and build on your own leadership and communication skills, with the support and involvement of our instructors. As with most things the more you put in the more you'll get out. Whilst we want you to get stuck in, it's really important that you let the young people make decisions themselves to enable the experiential learning process. This might mean that you have to bite your tongue sometimes!

As an employee ambassador we'd like you to:

Act as a positive role model to the young people.
Join in with outdoor activities (if you'd like to!)
Support instructors where possible - this could be contributing to review sessions or describing your work experiences.
Support teachers if required during non-activity time.
Represent your company in a positive and informative way.
Have fun!
To help you prepare we've written an 11 point guide on how to be the best employee ambassador ever!

Sleeping, eating and life at centre
Sleeping
You'll need to be at centre for 9.30am on the first day of your programme, so we recommend that you arrive the night before. We will book a B&B for you nearby. For the rest of the programme you'll be staying in one of our guest rooms (you may have to share with another employee ambassador of the same sex from your company). The only exception will be if you're coming in an extremely busy week and have to stay offsite at a B&B.

We do always try and get employee ambassadors to stay on site so that you can have the full Outward Bound experience. But whatever happens, we'll book everything for you and will let you know where you're staying four weeks before you arrive.

Eating
All food (cooked breakfast, lunch, two course dinner and snacks) are provided. Let us know your dietary requirements before you arrive by filling in the section on your medical form.
Life at centre

Mobile reception can be patchy. If you need to make a call and have no reception let us know and we'll let you use a landline.

Similarly, WiFi is available in the main building, but reception isn't always brilliant. There's no WiFi in the accommodation areas.

You're coming to a young people's centre so there is no bar or wine served with dinner! Likewise smoking (including e-cigarettes) is only allowed in designated areas and not on activity or expedition.

Find out more about your centre here.


What might my week look like?
On your first morning, before the students arrive, you'll meet one of our senior team who will give you a tour of your centre and give you a bit of history about Outward Bound, why we do what we do and how we do it.
They'll also cover critical information on safeguarding, GDPR (particularly if you plan to take photos or post on social media during the week) and how you can help each other.
You'll meet your Group Instructor and see your itinerary. We've included a sample programme here - but your activities will depend on which centre you are going to, the time of year, weather forecast and the needs of the group.

Finally you'll meet the students and their teachers and get going!

What to bring?
We'll provide you with walking boots, a waterproof jacket, waterproof trousers and a rucksack. If you have your own you can bring them, but please don't buy them specially. All specialist activity and safety equipment will be provided as required.
Life at centre is pretty casual, we're a jeans and trainers type of place in the evening. But for the outdoor activities you will need to bring clothing that will keep you warm and comfortable (not jeans). Most programmes will involve getting wet at some point, so make sure you have plenty of spare 'dry' clothes with you. The weather isn't guaranteed (!) so we find that layers are always best. Your kit list should include:

Two pairs of trainers (one you don't mind getting wet)
A mix of tops - t-shirts, base layers, fleeces, jumpers, hoodies, thermal tops etc
Trousers for activities - shorts, leggings, walking trousers (not jeans)
Walking socks
Swimwear
Hat and gloves
Toiletries, sleep wear, undies etc
It can also be useful to bring...
Sunglasses, suncream
Insect/midge repellent
Hand sanitiser
Blister kit
Books, magazines (WiFi can be patchy and is unlikely to be available in your bedroom)
Earplugs and eye mask!
Who's who at centre?
You'll work with one Group Instructor all week. Together you'll work with 12 pupils, getting to know them and their development needs. Your instructor will be responsible for programme delivery and outcomes and they'll also support and guide you throughout the whole of your Outward Bound journey.

Learning and Adventure Managers oversee the running of all of the courses throughout the week making sure learning outcomes are met.

Daily programme operation is the responsibility of the Operations Manager. They'll likely lead the morning meeting every day and will make themselves known to you.
Duty Instructors work from 5pm - 9am ensuring there's 24-hour pastoral care available for everyone at the centre.

The Head of Centre oversees everything that goes on at centre.
Unless you are working with a school who have sole occupancy there will likely be other schools on programme at the same time and these may also have employee ambassadors from other partner organisations.

Pre-programme *action required*
Before you arrive you must complete two mandatory documents.
DBS (Disclosure and Barring Service)
As soon as you get your DBS form, please complete it and send it to the address noted on the form. After a few weeks you'll get an Enhanced Disclosure document which is yours to keep. Outward Bound will be notified that your DBS has been completed.
Outward Bound's medical form
Please complete this in full, it also includes questions about any dietary requirements you may have.
If you'd like to hear from another employee ambassador, Emily wrote a blog about her experience at Outward Bound Aberdovey.

We've written an 11 point guide on how to be the best employee ambassador ever!
If you have any questions let us know. If not, then that's all for now. We're looking forward to welcoming you to Outward Bound!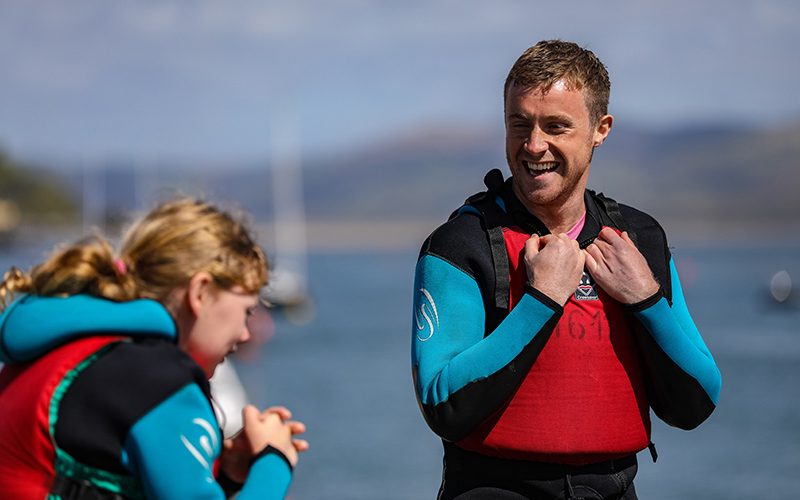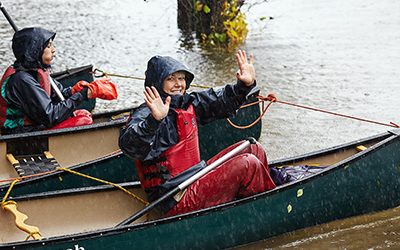 Together we are Outward Bound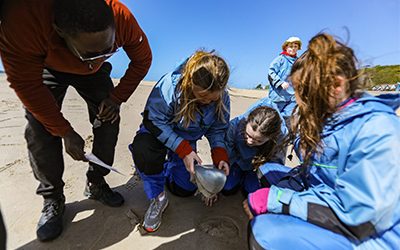 Becoming an employee ambassador