Back to our blog
A day in the Life of an employee ambassador
With guest blogger Emily Whiteman
Emily Whiteman is a Health, Safety and Environment Advisor for CNOOC International. Last summer Emily volunteered as an employee ambassador, working with a group of 12 students from an Academy in Uxbridge during their three-day residential. Here Emily explains what was involved and what she learnt from her experience...
If you've not heard of it - Outward Bound's Employee Ambassador Programme brings businesses and schools together for mutual benefit and learning. My company, CNOOC International not only provides funding to enable a number of schools to take part in an Outward Bound programme but as an employee, I was able to volunteer to take part in the residential course with the students, providing coaching and an insight into how the world of employment works.
I was really interested in mentoring the young people and in going to Outward Bound's Aberdovey centre as I'd never been to Wales before. I didn't know what to expect and wondered before I arrived if it was going to be difficult to engage with kids I'd never met but right from the first moment of meeting them I thought how fun and lively they were.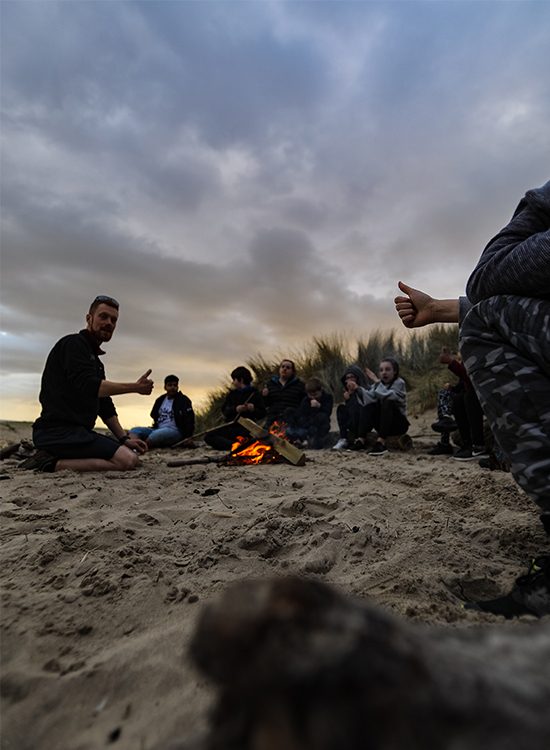 Working alongside the instructor
Ste, the Outward Bound instructor, was positive and passionate about his work which inspired the rest of the group too. He asked me to explain my working life, so that what was learned during our outdoor activities could be directly related back to my work or their school environment. Examples of this included the importance of teamwork, the art of listening and allowing everyone to have a voice.
Magic Moments
On the first day, with my group of 12 young people, we climbed a mountain. As with most groups, there were mixed ability levels so my job was to encourage everyone so that as a team, they could all get up the mountain. As this task progressed, I spent time getting to know them and learning about their lives and every day challenges. When we got to the summit there were big smiles all round especially from those of us who found the climb a bit more challenging. Everyone had pushed themselves physically and mentally and achieved something. That was really great to witness.
Another moment that sticks in my head was when one of the girls in the group was struggling with shaking legs to abseil down a rock face. All her peers shouted words of encouragement and helped her down. This was team work in action and a boost to her confidence, as well as an inspiration to the entire group that an 'I can do this' mind-set really works.
What I have Learnt
It's not only the kids who learn and grow on these courses. I definitely improved on the skills I had already and improved my confidence in my capabilities significantly. I loved learning more about adapting to change, tailoring communication styles and working as part of an effective, supportive team. On the last day and I got some really positive feedback on my contribution by Ste which I valued immensely. I came back to work buzzing after my week with the young people and I've recommended to many of my peers to volunteer for future CNOOC sponsored programmes with schools from the Aberdeen and London areas.
Helping young people
I also learned how important it is for young people to find a balance between academic achievement and learning valuable life skills such as resilience and team-work, in order to be able to face all the challenges they may encounter in their future.
I loved my time on the Outward Bound course and I hope that it will encourage some of the kids to join me in the oil and gas industry one day. All of them seemed impressed I get a helicopter to work!