Back to our blog
My Outward Bound London Marathon Story
Cirhan Truswell, who is running the London Marathon for Outward Bound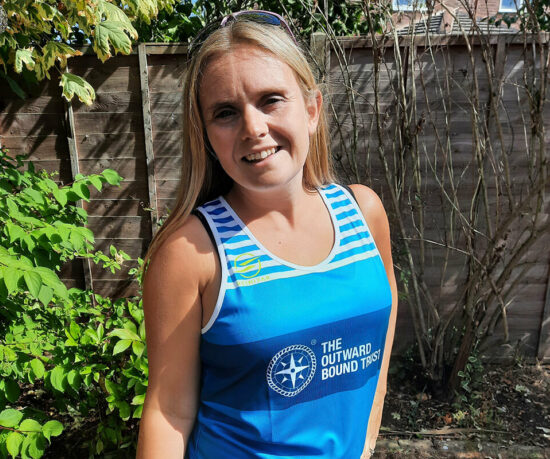 Why are you running for Outward Bound?
Outward Bound plays such an important role in connecting young people with the outdoors – not only does it help their wellbeing and their confidence, it instils a passion to want to be out in nature and protect the outdoors for years to come.
My day job is Climate Change Manager at National Grid, and part of my role is to develop strategies for managing nature on and around our land in a positive way for biodiversity and help to connect communities to nature. I've always felt a strong connection to being outdoors in the wild and when I'm not at work, I'm usually outside exploring through running, hiking mountains or walking my dogs. I'm super passionate about protecting nature and the role it can play in solving some of the big global problems we see today – climate change and poor mental and physical wellbeing.

All of which aligns so closely to Outward Bound's ethos so I am super excited to be raising funds for the charity.
Why did you choose the London Marathon?
I remember watching the London Marathon on the TV when I was younger and feeling so inspired watching people push themselves and achieve so much - I just had to be a part of it! I decided to run a marathon five years ago to tick it off my bucket list – fast forward to today and I'm so excited that London will be my 20th marathon.
How are you approaching your fundraising?
Aside from the usual fundraising from friends, family and work colleagues, I also like selling second hand clothes and doing car boots so I have a few of those lined up, and a quiz night for my running club. A few people have said they will double their donation if I run a certain time, and I'm going to run a 'guess my time' sweepstake too – an added incentive to run well on the day!
I'm really lucky to be part of National Grid's marathon team this year too, so any funds I raise, they will match.
Tell us about about your training plan
I run 3-4 times a week and I've been focusing on making each session a quality training run. So I will do one speed/interval session in the week, one fun run with friends at my local village running club and a long run on the weekend. Key is to choose a nice picturesque route, sometimes cross country and to enjoy it!
What tips would you share with novice marathon runners?
Don't get carried away and start off too quick – you'll pay for it later. I always use this mantra - run the first ten miles with your head, the next ten with your legs and the last six with your heart.
Test your fuelling and hydration in training and find an approach that works – this even includes what to have for breakfast beforehand.
Enjoy the moment, take in the atmosphere, the crowds and fellow runners around you. You've done all the hard training, this is your victory lap.
Feeling inspired by Cirhan? Join #TeamOB and run the TCS London Marathon for Outward Bound.
Run the London Marathon yourself
Feeling inspired by Cirhan? Join #TeamOB and run the TCS London Marathon for Outward Bound. You can help us to change young people's lives for the better.
We're here every step of the way
When you run the London Marathon for #TeamOB you will have access to all our support, including advice on successful ways to raise your sponsorship and a full training programme.