Back to our blog
Why I'm running the London Marathon for Outward Bound
Einir Jones, teacher in North Lanarkshire Council
Why are you running for Outward Bound?
When I was 14 years old and maybe making 'interesting' life choices, a school outdoor education residential changed everything. I started rock climbing, hill walking, volunteering at an outdoor centre, and completed my Bronze Duke of Edinburgh Award.
I went on to study outdoor education at college and my first essay was about the growth of outdoor education. A huge part of this was looking at the founder of outdoor education as a movement - Kurt Hahn and Outward Bound - and I've been inspired this work ever since.
My family are sheep farmers near the Aberdyfi centre and as well as the impact the centres have on the young people they work with, I've also seen how it helps the local rural economy.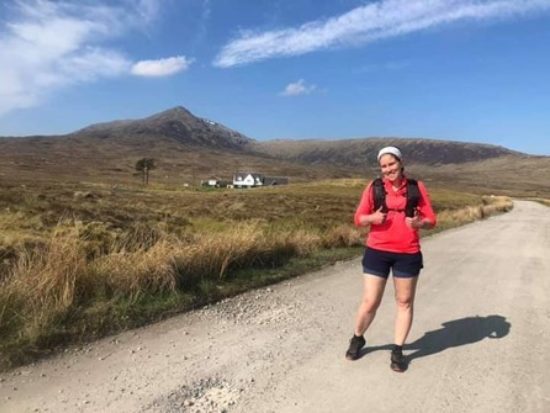 Why did you sign up to the London Marathon?
I have been watching the London Marathon on the TV since I was five years old. It always inspires me. Last year my best friend ran the virtual London Marathon. We did a bit of a 'Challenge Annika' where we drove to places along the way and cheered her on. I ran the last four miles with her and it was so emotional - I was a wreck at the end!
By the end of the day I had applied for a charity place running for Outward Bound. I also love a challenge and why not the most famous and biggest marathon in the world?
Why is Outward Bound so important to you?
It's important to me because it's a charity that supports so many young people, some of whom come from very deprived areas (including the young people I work with), so it is a cause very close to my heart. It's ethos and values are aligned with my own and I love the work they do.
The experiences they give young people really are unique. My experience is that the staff are so well equipped to quickly get to know the groups of young people, their strengths and areas for development, as well as how to get the very best out of them. I want to see The Trust continue to reach out to deprived young people and by fundraising for them I'm hoping I am helping.
I also have first-hand experience of an Outward Bound residential though the school I work in and the experience changed the outlook that the pupils had. They gained self confidence, resilience, built relationships and trust in others and a can-do attitude, which are great attributes for the rest of their lives. For some of these pupils, it was their first experience of any sort of wilderness.
I feel really strongly that funding should be directed into the growth of outdoor education as an educational and development tool, and as a charity Outward Bound, in the days of cuts are always facing an uphill battle to reach so many young people and change so many lives.

Have you started fundraising? If so, what are you planning?
Yes, my fundraising is underway. I have a fundraising page which I am trying to share monthly on my social media. I am also planning a fundraising night in September - maybe a race night with some bingo.
What would you say to anyone thinking about running the London Marathon?
Do it! Friends will go with you, even on the short evening jogs! It's always about just putting one foot in front of the other and perseverance. Oh, and watch the film Britney Runs a Marathon, a true story about a non-runner turning into a marathon runner. It will be my night before London Marathon viewing!
If you have been inspired by Einir, it's not too late to sign up and run for Outward Bound. We still have a limited number of spaces available.
RUN THE LONDON MARATHON YOURSELF
Feeling inspired by Einir? Join #TeamOB and run the TCS London Marathon for Outward Bound. You can help us to change young people's lives for the better.
WE'RE HERE EVERY STEP OF THE WAY
When you run the London Marathon for #TeamOB you will have access to all our support, including advice on successful ways to raise your sponsorship and a full training programme.