Back to our blog
Guest blogger Julie Wilson experiences the benefits of an Outward Bound course
I was recently fortunate enough to be invited to attend a taster course with The Outward Bound Trust in Howtown. I class myself as an outdoor person, so thought this would be an ideal opportunity for me to gain first hand knowledge of what is on offer for young people.
On Friday afternoon I had expectations of a nice walk in the Lake District and maybe the challenge of another mountain walk, of which I have experienced many. Little did I know this was to be a personal challenge which involved gorge walking, something I've never had a desire to do. Walking up a gorge knee deep in freezing cold water, the wind was gale force and the rocks slippery. A particularly daunting challenge, as I was with people I'd only just met one hour before! Fortunately the team bonded quickly and we gave each other great support.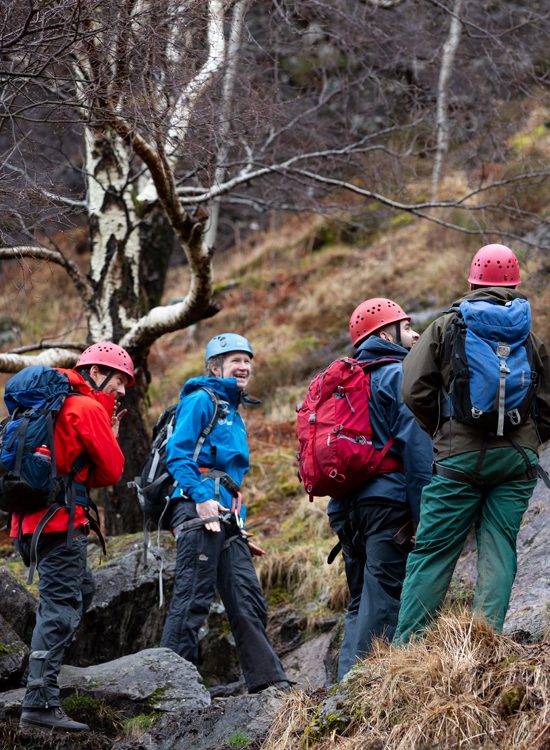 The following day we were given a choice of two walks. I opted for the mountain scramble and bush craft. Beginning at the gate well along the edge of Ullswater, we had a choice of paths left or right around the side of Hallin Fell. The instructors pointed to the route we were to take, not a path, but straight up a steep rocky gully leading to the summit! It was at this point I silently questioned myself 'why do I get myself into these situations? I enjoy mountain walking but I am and never have been, nor have the desire to be a climber.'
But I could not, nor would not back out of it so just kept going in the direction the instructor indicated. After the first 15 mins I was feeling overwhelmed and just wanted to go back, but having looked down I realised that this was not an option! Descending now looked harder than going up. We relied on each other to assist us up the climb, as well as making sure we did not fall back. Thankfully the instructors were very experienced in leading groups and kept a look out for those who are struggling, like me!
I've never been so glad to see the top of a mountain and the stone cairn which was our goal. Then we were hit by the strongest wind and just as I was about to be airborne, I was grabbed on either side by the two instructors, who assisted me across the top of the mountain.
The descent at the other side was easier than I anticipated but still made difficult by the wind and the slippery wet conditions. At the bottom we had a lovely lakeside walk passing beautiful beaches and woods. It was in this gorgeous location, as we stopped to have tea and sandwiches together.
This experience was a personal challenge for me as it allowed me to do things I would not otherwise choose to do, although at the time wish I was not doing. However, I am glad I did this challenge for two reasons: firstly it took me out of my comfort zone and helped me to trust and rely on strangers; secondly it has convinced me that some of the young people I work with would benefit immensely from this experience.
The sense of achievement when completing a challenge is immense and can boost the confidence of the young people the course was designed for. It can also instil young people with respect for the adults in charge and show their ability to take instruction. As well as gaining respect for themselves they will acquire tolerance for those who may be struggling and learn how to give encouragement to peers in order to help them.
Moreover the young people will learn how to work as part of a team and form friendships with others. They will learn new skills as well as discovering skills which they never knew they had and in addition learn to trust those who are helping them.
Young people if given the opportunity to participate on an Outward Bound course will experience new horizons – taking themselves out of their boxed-in lifestyles.