Back to our blog
Using Outward Bound to engage and develop challenging and disadvantaged students
Jon Spears, Assistant Principal at Tamworth Enterprise College in Staffordshire, talks about how his school uses Pupil Premium to support disengaged and disadvantaged pupils through learning in the wild.
Over the last 24 hours I have witnessed first hand just how resilient our young people can be. The Year 10 students undertook a six-hour trek in harsh Welsh weather through all sorts of difficult terrain. They carried 15kg rucksacks up a mountain and erected their tents in the rain.
Throughout the day and through each challenge we have faced, I have seen the group support and encourage each other, show great kindness, humour and immense willpower to keep going and reach the summit. We have come a long way, both literally and figuratively, and I couldn't be happier to be sharing this experience with them.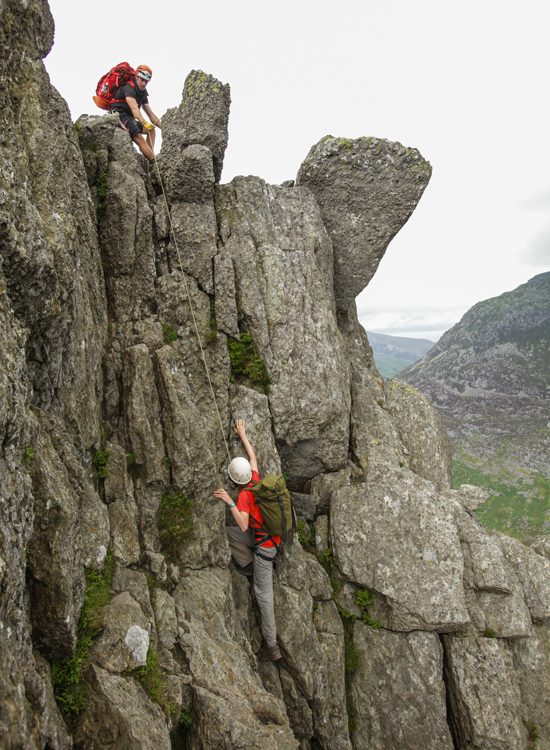 About the enterprise project
Our Year 10 Enterprise Project was devised to bring together some of our more challenging individuals; to get them to develop their resilience, their fixed mind-sets, their communication skills and their sense of identity and belonging within the local community.

Following a meeting at the National Pupil Premium Conference, we worked closely with The Outward Bound Trust to enable 36 students to attend an experiential learning adventure week at Ogwen Cottage, a beautiful centre nestled at bottom of Mount Tryfan in the Snowdonia National Park.
However, the trip was only a small part of the project. Students had to work with their English teacher to write a formal application for a place on the project; our designated Pupil Premium governor helped to select the final 36 from over 100 letters.
Once selected, students attended an arts day in school. Here they had to work outside of their comfort zones to collaborate on a multi-media film exploring their own sense of identity. The end result saw a plethora of artistic approaches (drawing, acting, singing, dance, poetry) come together to create a powerful message of community.
Using the wilderness
Finally, the day came to leave the confines of school and head to Wales! Right from the off students impressed me with their appreciation of the stunning scenery and every single one of them embraced the full range of activities throughout the week, from rock-climbing to gorge walking, scrambling to lake-dipping.
That's not to say it was all plain sailing, we had lots of tears, tantrums and difficult behaviour - all necessary reactions for students to be able to overcome their barriers and express their own fears and frustrations. There were constant reminders too of the realities of daily life for our disadvantaged students. I had to accompany one student to the office so that they could ring home to find out the verdict from their dad's court case, a sobering reminder that often our students are facing mountains of their own to climb.
The project continues back in school with the group developing a community garden and our Year 9 cohort are about to start their own Enterprise project too.
This initial project resulted in lots of positives for our students: their progress has markedly improved in school and 71% have good-improved attendance now. Ten of our students are still struggling to hit their target grades in all subjects, but we know that without this intervention the picture would look much bleaker for them.
The relationships formed not only between students and staff, but also between the students and their own perceptions of school and achievement are clear to see on a daily basis.
Mind the gap
Sometimes the prospect of 'closing the gap' between our disadvantaged students and the non-disadvantaged students nationally seems colossal. We constantly ask our staff to 'Mind the Gap', to throw every tool in the tool box at these students in the hope that something will stick, will break through those barriers to learning and achieve outcomes that defy the national trend of underachievement for this group.
Given our school is within that 'hardest to shift' category of a white working-class catchment, with around 35% Pupil Premium, the gap often feels more like a never-ending chasm. Whilst attendance, behaviour and progress data may evidence the impact of our Welsh adventure, I would argue that what the students discovered about themselves, the environment and their ability to achieve, will have a life-long repercussions impossible to quantify.
By presenting students with an opportunity to experience outdoor learning in this way, we can broaden their minds and their understanding of their own ability to face and overcome any challenges they face.