Gatwick Airport bring apprentices from all four years of their engineering apprenticeship together to help them build relationships across different years, grow their communication skills and accelerate the transfer of learning back to the work environment.
Developing communication skills
Building cross-year group connectivity
Supporting Gatwick Airport's sustainability goals and values
Business need
Gatwick wanted an experience that would span their entire apprenticeship, from first year students right through to fourth year technicians. Something that would give them the opportunity to mix with peers, explore communication styles and take learning back to the workplace.

Typically, first year apprentices attend college full time, with little opportunity to mix with second to fourth year apprentices who are on rotation in different engineering functions in the airport. Bringing them together on a shared development experience would allow younger apprentices to learn what to expect on site and build confidence in communicating with others, and older apprentices to share best practice and test new styles of communication with younger peers.
The outcome
"At Gatwick Airport we spend four years training our engineering apprentices to become our future Technicians. What is equally important is ensuring that they are all team players who show respect and resilience at all times. Working with The Outward Bound Trust has enabled each apprentice to push themselves to achieve their maximum potential whilst learning behaviours and skills that will remain with them for life. This week each year is an integral part of our apprenticeship programme."
Dave White, Apprentice Development Lead, Gatwick Airport

When Connor, 22 completed his four-year engineering technician apprenticeship we asked him to reflect on his Outward Bound journey.
"In my first year it really helped with, I guess my talking skills. It helped me with an insight of what was to come in my next year groups and what to focus on – a lot really. Climbing mount Helvellyn was quite intense – there was a lot of motivating each other and for me that helped me bond with the other guys in my year group - we're now best friends.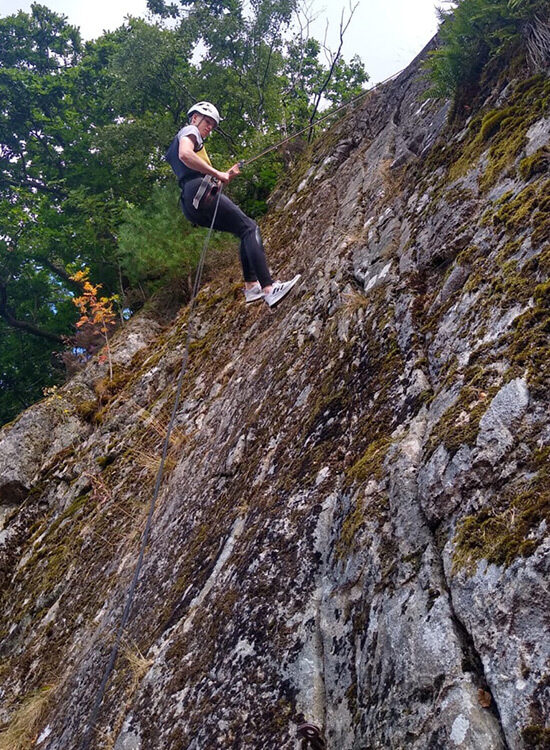 I think that [bond] helped us with our HNC we did, the NVQ – there was quite a lot of work we had to get done, so yeah, I think that really helped us all through the apprenticeship.
Now I work 12-hour shifts, 14 shifts a month.  So often you're spending more time with these people than your family really, having the ability to talk to people you haven't met before and create that good working bond, is really important - in my opinion, it's almost as important as the job itself.
At Outward Bound you're away from all the normal social life, people being on phones, computer games and stuff - it forces you to have those big conversations and learn about what's going on in people's lives, so yeah, that really helped me."
How we did it
The programme is designed to be progressive in nature, both in terms of the learning delivered and the outdoor adventures. Apprentices who have already attended Outward Bound are expected to apply their previous experience and be willing to share their skills with others. Applying operational thinking, adapting to changes in the natural environment and dealing with time constraints are experienced throughout, developing team roles, communication and customer service.
Business simulation projects focus on specific learning outcomes related to the course aims. These projects use underpinning theory and language relevant to Gatwick Airport to aid transition of their values, strategic priorities and importance of meeting the sustainability net zero goal.
This table shows the apprentices' perception of the impact of their learning against each of the programme objectives:
| | | | |
| --- | --- | --- | --- |
| Objective | Partly | Mostly | Fully |
| Develop personal strategies to work within Gatwick Airport's values. | 6% | 63% | 31% |
| Experience planning tasks to develop operational thinking. | 0% | 31% | 69% |
| Develop the skills to communicate appropriately to colleagues and clients. | 0% | 25% | 75% |
| Develop strategies to prioritise and manage time in a dynamic workplace. | 6% | 31% | 63% |
| Build nature connection to support Gatwick Airport's sustainability goals. | 0% | 38% | 63% |
Download this case story
Download a PDF of this case story about developing apprentices' confidence and communication skills, helping them to understand the impact of their behaviours on self, the team and the customer.
Can we help you?
Over 4000 apprentices and graduates take part in an Outward Bound learning and adventure programme every year. From connecting with company values to building resilience and communication skills, we work together to fast track their development. The first stage is just a conversation...