BAE Systems employ hundreds of apprentices across advanced, higher and degree levels. This programme sits at the heart of their early careers development strategy, providing every young employee with a consistent learning experience and the appropriate level of challenge for their apprenticeship.
Understand and apply BAE Systems behaviours
Recognise personal strengths and areas of development
Embed organisational values consistently
Build confidence
Business need
BAE Systems wanted a partner to deliver an experiential learning programme that would sit at the heart of every apprentice's development journey. Regardless of apprenticeship level (advanced, higher or degree) or location across the UK, consistency of experience and outcomes for every individual was critical.

A key part of the overall apprenticeship development, the programme needed to support and embed the eight organisational behaviours at BAE Systems. Programme delivery must support learning in a business context and be aligned to the relevant apprenticeship standard, preparing apprentices for end point assessment.
The outcome
"Apprentices develop confidence, resilience, adaptability and character as a result of their apprenticeship. All apprentices complete an Outward Bound course where they learn about the high standards of behaviour that the company expects. The challenging activities that apprentices complete develop their teamworking, problem-solving and leadership skills, which they then use in the workplace. Apprentices flourish as individuals.
Ted Creighton – Head of Early Careers & Skills at BAE Systems

Noticing huge changes...
"Outward Bound are our only external partner who work with every single apprentice in the organisation. The programme is key to the behavioural journey of each of our apprentices and I notice a huge change over the programme - from any pre-programme anxieties on the Monday to Friday when everybody is smiling, flourishing, and reflecting on their growth over the week.
Our staff who attend the programme get just as much out of it as they build relationships with the apprentices in a very different setting helping with safeguarding and wellbeing too.
The experience of being on this programme benefits all individuals personally, not just professionally.
We're also very proud to have achieved an outstanding rating in our recent Ofsted. The inspection report positively recognised our commitment and investment to send every apprentice to Outward Bound and our partnership success was commended."

Matt Armistead, Early Careers & Skills Manager, BAE Systems
How we did it
Outward Bound worked closely with BAE Systems stakeholders to design, develop, deliver and review programmes that target the specific needs relevant to each level of apprenticeship.
The degree of challenge is adjusted depending on individual, group and apprenticeship standard requirements. Outward Bound and BAE Systems visiting staff ensure the appropriate level of support and challenge is provided to promote personal learning and development. Apprentices are encouraged to reach outside of their comfort zone and stretch their preconceived abilities leaving them with the behaviours, confidence and personal responsibility to be effective in their careers and the organisation.
This table shows the apprentices' perception of the impact of their learning against programme objectives:
| | | | |
| --- | --- | --- | --- |
| Objective | Disagree  | Not sure | Agree |
| Built skills that will make a positive difference at work | 0% | 4% | 96% |
| Able to use BAE Systems behaviours to reflect on personal performance | 0% | 1% | 99% |
| Explore resilience in adapting to challenge and change | 0% | 2% | 98% |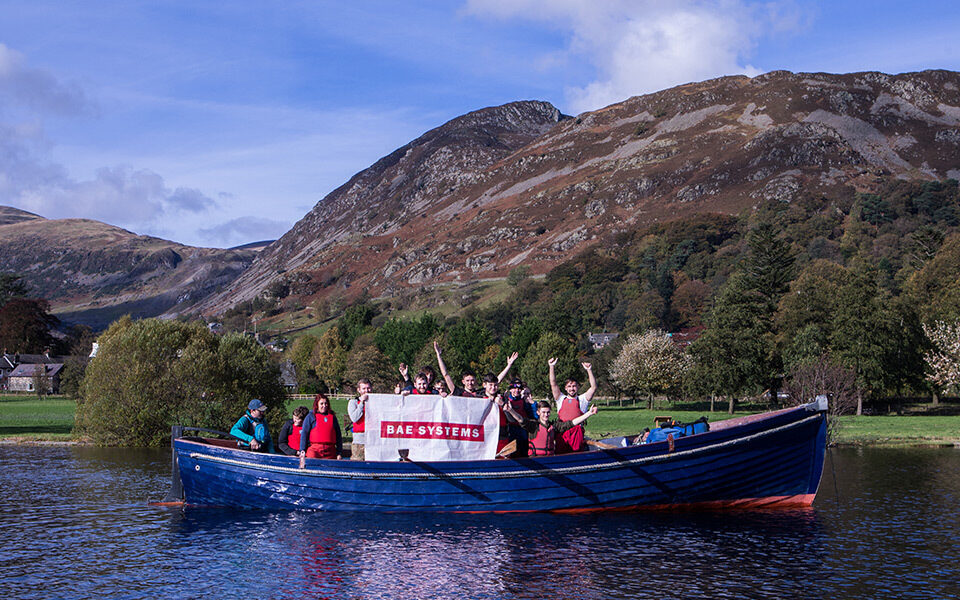 Download this case story
Keep a copy of this strategic behavioural development case story. Read how our partnership approach brings BAE Systems' organisational values to life for every apprentice in the business.
Can we help you?
Over 4000 apprentices and graduates take part in an Outward Bound learning and adventure programme every year. From connecting with company values to building resilience and communication skills, we work together to fast track their development. The first stage is just a conversation...