At Outward Bound, we're committed to ensuring the outdoors is a space for everyone. Right to Explore is part of our diversity project, as we aim to diversify the role models young people work with on our courses, our organisation and the outdoor sector.
Kate O'Brien, Diversity Project Manager at Outward Bound reports back on the first Right to Explore programme, kindly supported by The North Face. This article first appeared in Horizons magazine.

Our young leaders
In 2019/20, twelve young leaders and two mentors from Lindley Educational Trust, Greater Manchester and Shadwell Basin Outdoor Activity Centre in London took part in the first Right to Explore programme: a series of progressive experiences designed to progress their personal skills and leadership.
We set out with the aim of:

Working in partnership to create outdoor leadership opportunities for young people from ethnic minority backgrounds, in order to support development of role models in outdoor leadership.
Although interrupted by Covid, the group completed their programme in 2020 and enjoyed a summer celebration at Lindley's Hollowford centre in Derbyshire.

Impact on the leaders and their communities
We surveyed the 12 young leaders to hear about their experiences. The positive results suggest that the programme impacted on the young people's connectivity with the outdoors. 64% spent more time doing outdoor activities compared with before the programme. This also extended to having an influence locally with 82% of the group introducing one or more family members to the outdoors through informal leadership.
When it came to employment, 82% of the group now have more interest in working or volunteering in the outdoor sector, although interestingly fewer people indicated that they would like to pursue this as a full time career, something we will explore further. 60% have completed outdoor leadership training/qualifications, and 75% have gained paid employment leading groups in the outdoors.

Skills and change for life
Mark Williams, Head of Lindley Educational Trust Centre's shares,
"We saw these young leaders refine and develop their skills in terms of manging groups of young people. Initial volunteering has led to paid part time youth work / activity leader roles within Lindley. All six of our young leaders are now valued members of the Lindley team and they are inspirational roles models for other children and young people from their community."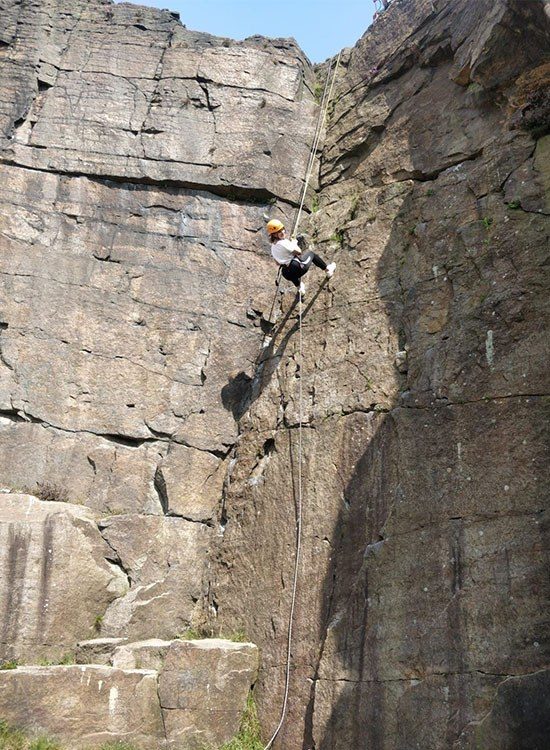 Much of the feedback from the young leaders supports the impact of purposeful action towards improving diversity in the outdoors,
"This programme can potentially show young people that outdoor activities can be multicultural and inclusive, potentially inspiring people from all backgrounds to participate in outdoor activities."
Another participant goes on to demonstrate the positive ripples that can happen from this kind of programme saying,
"Gives people from BAME backgrounds more experience with leading people in the outdoors, so we can go onto take others to outdoor activities and give them the same experiences."
And finally, one participant reveals the wider impacts the programme has had on employability more generally.
"I have enjoyed everything about it. It has also helped me develop into a more confident, outgoing and sociable young male which has really helped me when I have started working. I work for the NHS now and I still get involved (in the outdoors) as much as I can and look forward to it too. I believe that this has helped me when I had job interviews and also in my workplace where I work with people of different age ranges. Some people may not realise this but I believe that this is not just about doing outdoor activities, it is really good for our youths in many other ways."
Alishba's story...
To delve a bit deeper we caught up with Alishba, a participant from Lindley Educational Trust, who has since appeared on Countryfile and secured a scholarship to work full time as an outdoor youth worker for the next 12 months.
Programme growth in 2021
In 2021 we extended the programme to work with new partners and new geographies. We have 24 young leaders from a variety of ethnic backgrounds, supported by four mentors in Manchester, London, Coventry and Sheffield.
Mark Williams concludes, "Diversity and inclusion is a long term agenda and needs a strong commitment for a good number of years if not decades. Lindley have been working in this area for over 15 years. It is great to work in partnership on this project as organisations have things to learn from each other. In simple terms it is a worthy project as children and young people are more likely to take on challenges and be inspired by outdoor instructors who look like them. On so many occasions we get told that a young person only engaged with us, because our staff came from their community and understood their needs and values.
We get to know families and community elders, we get to know them and gain their trust. The outdoors is a great hook, but to get local people into the driving seat rather than just being passengers is more complex and needs investment and enthusiasm.

It is a long journey for someone who lives in a city, who has different values and cultures and who has barely been out to the countryside, to become a Mountain Leader holder. We have successfully taken dozens of people on this journey and it typically takes 10 years or more. But the effort has always been well worthwhile for Lindley, the community, young people and the individual."

Thank you to our supporters
Thanks goes to The North Face for continuing to support this project and providing top quality kit to equip the groups for a lifetime of adventure. Sport England who are supporting 12 young people through their Workforce Diversity Fund and DEFRA who are supporting a further 12 young people through the Generation Green Project.

The Right To Explore Film