Back to our blog
Inspiring Instructor - Joe Doherty South Pole Challenge
Photographs courtesy of Håkon Mæland/ MLandpictures.
The Outward Bound Trust has very talented, dedicated employees, who inspire and enthuse young people visiting our centres every day.
One such individual, is Aberdovey based, Joe Doherty. He joined The Trust in 2015 as an instructor and is now one of our Learning and Adventure Managers. Joe loves his work, but in November he'll take some time out, to take on a very special, personal expedition to the South Pole.
Joe explains how The Trust has supported him in believing he can take on this challenge and in return, he hopes his expedition will encourage and inspire future participants to take on their own.
"When I started at Outward Bound I didn't mention my expedition much. Where I'd previously worked, most people thought I was crazy and unrealistic. Often being cynical and tried to tell me that I needed to get the idea out of my head.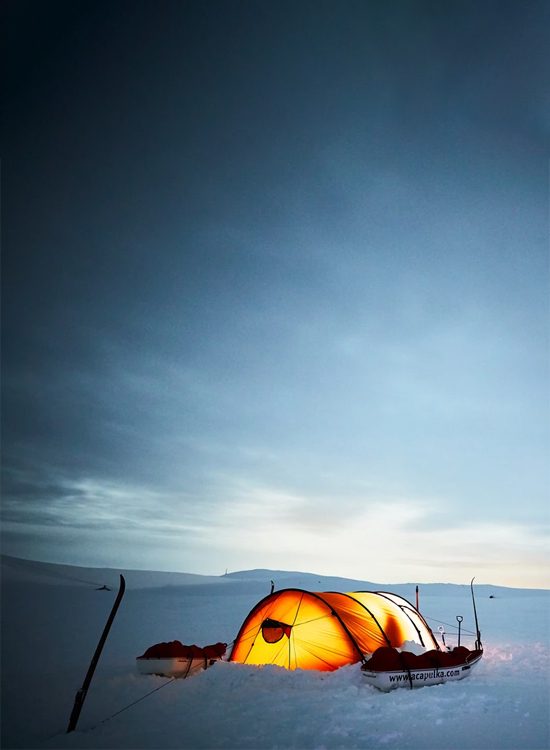 However, on my first week at The Outward Bound Trust, during dinner, the instructors around me were talking about immense plans of adventure and real challenge. I was totally captivated by their plans of kayaking around Ireland, climbing for 7 days on El Capitan or Mount Everest. It made me feel confident in what I was wanting to achieve. It flicked a switch in my head that my colleagues were just like me. But the difference was, they cared less about what others thought and more about how they could support each other.
The Trust's core mission is to unlock the potential of young people through learning and adventure in wild places. We achieve this by raising individual's self-esteem, confidence and resilience to name a few. It suddenly dawned on me that my colleagues and The Trust's ethos was allowing me to unlock my potential. Before I knew it, I was talking about my expedition more than I ever had before.
The Trust has been very supportive of my expedition since day one, wanting to invest in their own employees, to help them develop as a person. We've to practise what we preach to all our individuals on all our courses and I feel proud of how much support I've had from The Trust.
I won't be doing the expedition alone; I'll be with Oliver Robinson. Together we share the same passion and have been close friends for the last 9 years.
The Challenge
As well as Learning Adventure Manager for The Trust, Joe is a scout leader. If the pair succeed, they will become the world's first scouts to ski to the south pole and kite ski back!
The journey will begin from the Messner Start (80o 67' S 65o 00' W) where the team will man haul their 100kg pulks 566 Nautical miles to the South Pole over 45 days.
Upon reaching the Pole they will head for Hercules Inlet (80o 05' S 78o 30' W) in which they will cover 700 Nautical miles using only the power of the wind over 20 days.
Training in the South Pole
In February this year, we completed our final polar training expedition before attempting the South Pole expedition in November. We spent 3 weeks in Haugastøl, Norway (60.5oN 7.9oE) to train with Expeditions365 directed by Carl Alvey. Carl has run many polar trips including crossings of Greenland and Norway, as well as eight Ski South Pole expeditions, mixed with plenty of kite-skiing as well.
The first week was comprised of small day trips to local mountainous areas across the Hardangervidda National Park. Not only is it one of the largest national parks in Norway (3400 sq. km), it has the highest population of reindeer roaming through it and is absolutely breathtaking – well worth a visit of your own one day to see the sunlit spectre halos and lots of wildlife, including Arctic foxes and lemmings!
In such temperatures of -200c to -300c, refining our layering systems was vital. Ollie and I would complete exercises to experience the effects of overheating or sweating and feel the consequences it delivers to your body. Equally important is wind protection, any skin left exposed in winds above 25mph would result in frost nip or frost bite.
Some of the biggest learning points included putting up the Antarctic Hilleberg tents in the most systematic and efficient way. Communication and planning is essential to carrying out this task in Antarctic conditions. We would be putting these skills to the test in the second week of the expedition where we would be skiing across the Hardangervidda plateau for six days, dragging all our equipment and supplies with us.
The plateau itself is, as you would imagine for Norway, a wide expanse of rolling mountains surrounded by countless fjords. It is certainly a world away from what we are used to in the steep and rugged mountains of the UK. Fjords the size of villages are hidden and easily walked over, mountain huts are buried and footpaths or ski tracks are a rarity at this time of year.
Arriving back at base after six days and five nights was a great feeling and we had our heads held high because we knew we had the skills to move through this environment effectively and safely. Knowing that we had survived the most challenging conditions we had ever experienced was a great morale boost for Antarctica.
Fully prepared
We left Norway feeling prepared and ready for the bigger expedition ahead, we knew what to expect now and what level we needed to be at. What's left to do for us is to secure the last of our sponsorship and prepare physically for the expedition. We need to be training five times a week and within that be dragging car tyres, clocking lots of miles on the mountain bikes and be putting on excess weight to eventually loose in the harsh environment of Antarctica.
If all goes to plan we should be landing in Punta Arenas (Chile) on 10 November 2018 and then on to the Antarctica ice shelf soon after."