Back to our blog
From Athens to Aberdovey a Family Q&A
Guest Bloggers Ian and Rebecca, parents of Esther
We are Ian and Rebecca, the parents of Esther, who attended the Skills for Life Award in July 2018 at the Aberdovey centre. We are both British but have lived in Greece for the past 8 years due to work and our daughter attends an international school in Athens that follows the GCSE/IB curriculum.

SO, WHAT MADE YOU THINK OF OUTWARD BOUND?
Ian - Our daughter is 15, we have a very long summer holiday to fill and we thought it would be a great opportunity for her to gain some independence and face some new challenges. I did Outward Bound (OB) when I was a similar age and really enjoyed it. My brother is also a deputy head of a large school in the UK and they use OB for a lot of their outdoor education, so we knew that the safety and educational culture was well established.
Esther - We had a look at the website and discussed whether a short experience course or the Skills for Life course would be best. My cousin had done the Skills for Life and Ultimate courses and we had a chat about what it involved. He said that it was great fun and a massive challenge as he did lots of things that were new.
Rebecca - I was most concerned about the facilities, well-being and support. I was also worried about her being homesick or not settling-in. I need not have worried!
Hiking, kayaking, canoeing and abseiling, although sounding fun, were all things that I had never before experienced. I really wanted to go but fear of making a fool out of myself held me back. In the end, I concluded that there would be no harm in trying as I wouldn't ever need to see the people I met there again. Plus, I really wanted an opportunity to meet new people and develop my confidence.
WHY THE SKILLS FOR LIFE AWARD?
Rebecca - What I liked was the journey of self-discovery as the course has goals in mind and those are completely individual. The questionnaires filled in before the course were quite detailed and gave the instructors a good idea of your child's background and then what she wanted to get out of it.
Esther - I liked the idea of being able to do something where no-one else knew me and I could look at how I wanted to see myself develop. For instance I wanted to gain confidence when working with people I don't know as a group.
Ian - The centres provided different types of experience due to their location. For Esther, Wales sounded great because it involved a lot of water based activities such as canoeing as well as mountaineering and gorge walking in Snowdonia which is stunning (especially when the sun shines!). We also hoped that she would meet people from very different backgrounds and cultures.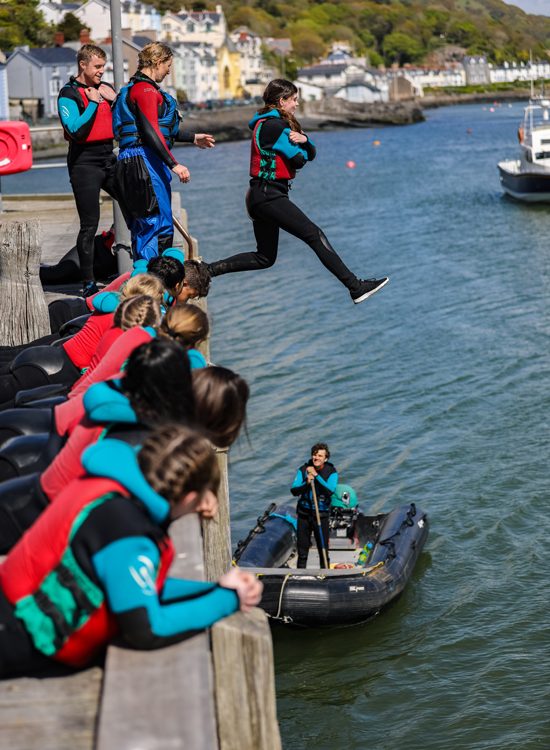 WHAT WERE YOUR INITIAL IMPRESSIONS?
Ian - We were going to be in the UK anyway for a break so chose to take our daughter to Aberdovey by car. It easy to find and the town was beautiful. We stayed overnight at a local hotel and thoroughly enjoyed it. Rebecca - The staff at OB made us all feel very welcome and took us up to the dormitory. They showed us the facilities and gave us every confidence that our daughter was going to be well-fed and looked after.
Esther - To start we had a meeting with everyone on the course and introduced to the instructors. They were so enthusiastic! We were put into our groups and I think that everyone was a bit nervous but it was amazing that we got over that so quickly and just ended up chatting when we had dinner together. After eating far too much we did some games that helped us to get to know each other a bit and remember names. About half of my group were international students and included people from France, Belgium and Italy. The rest were British. English is my native language but for those who have English as a second or third language this was a great opportunity to practice, pick up on British culture and what is special about Wales. My initial worries about meeting people, making friends and fitting-in were quickly put to one-side. Was it easy to keep in touch?

Rebecca - Yes. It turned out that there was wifi which was fine for calls and messages.Ian - I was pleased to hear that there were no phones until back in the centre. We had some great up dates from Esther who was bursting with news about the things she had been doing; even if she was tired. Esther - The only time I was not in contact was during the expeditions but the centre has contact with the group leaders if there is ever any problem.
WHAT DID YOU LIKE THE MOST?
Esther - I loved the challenge of doing things that I had never done before. I was pretty terrified at the thought of abseiling but actually it was great once I had gone over the edge and realised I was safe and in control. There was a real buzz in looking up the cliff face to see others in the group on the way down and thinking "I did that". Canyoning was fantastic and I did a huge jump into a pool.
Was the expedition fun?
Esther - We had really good equipment and learned how to use it on the first expedition which was supervised. Then we had to plan as a group our second expedition which was unaccompanied and remotely supervised. I was in a group of six and shared a tent with two other girls. We did an 8km paddle in canoes along the coast where we were met with our rucksacks and equipment ready for a monster three day hike through the mountains of the Snowdonia National Park. We had to plan the route and waypoints to check-in with the centre. All of our food, supplies and equipment had to be carried between us. After an amazingly hot start to the course the weather turned and it was foggy and rainy on the expedition. It was a challenge to keep our feet dry. We had a lot of fun and chatted all the way. The sheep ran off when we starting singing!
Ian - I can't believe how much better the equipment was than when I did this. In my day (I am no that old really) the tents weighed a tonne and the waterproofs didn't have breathable fabric so you were just soggy
What did you get out of it?
Esther - It was brilliant for my independence. Now I don't think of reasons not to do something. It was also great fun and I made some good friends. I also worked with the instructors on my individual development plan and got a lot out of it. If you are honest with yourself and are not scared to try new things the instructors will put you in a position where you are challenged. They were also very supportive and encouraging.
Ian & Rebecca - Apart from some rather smelly trainers and a tired teenager, we saw a real change in her independence. She also thinks through the implications of what she wants to do and plans ahead. These are really great life skills. Having talked to her, it was remarkable how others in the group had also risen to the challenges and worked on their own personal development plans.
Would you do it again?
Esther - Yes, absolutely. I may look at doing one of the one week adventures and possibly the Ultimate. Ian & Rebecca - Sounds like a good idea. The tough decision is where!
Find out more about our Summer Adventures
Why not do something amazing this summer.
5, 7, 14 & 19 day adventures
Inspiring young people to conquer mountains - both real and metaphorical.