Success!
Thank you for donating to The Outward Bound Trust!. Your first payment has been authorised and your subscription has been setup!
If you need to change your subscription details, please call us on +44 (0) 1931 740 000.
Failed!
Sorry, it looks like something went wrong whilst your payment was being processed. Please try again.
If you need help, please call us on +44 (0) 1931 740 000.
Outward Bound Eskdale is on the western coast of the Lake District. The centre is mostly used by apprentices, graduates and young people at the start of their careers.
The Outward Bound Trust
Eskdale Green
Holmrook
Cumbria
CA19 1TE
01946 723281
If you want our postcode for sat nav, please read our suggested directions below first.

Getting here
Online maps and sat navs often suggest you go via Ambleside to get to Eskdale. Be warned this route includes some of the steepest mountain passes in the Lake District, single-track roads with 30% gradients and hairpin bends. Our directions are much easier and more direct - we strongly advise you use these.

From the south – Exit M6 at J36 and follow the A590 west, signposted to the West Lakes. At Greenodd turn right onto A5092. Join the A595 at Grizebeck and continue on this road to Holmrook. From Holmrook turn east on to the B5344 and follow signs for Eskdale Green. Journey time from J36 is approximately 1 hour 15.

Two stage sat nav from the south to avoid Ambleside
Navigate to Greenodd (LA12 7RD)
From Greenodd drive to Eskdale Green (CA19 ITE)
From the north – Exit M6 at J44 and take the A689 to join the A595, the Cumbrian coast road to Holmrook. From Holmrook head east on to the B5344 and follow signs for Eskdale Green. Journey time from J44 is approximately 1 hour 25.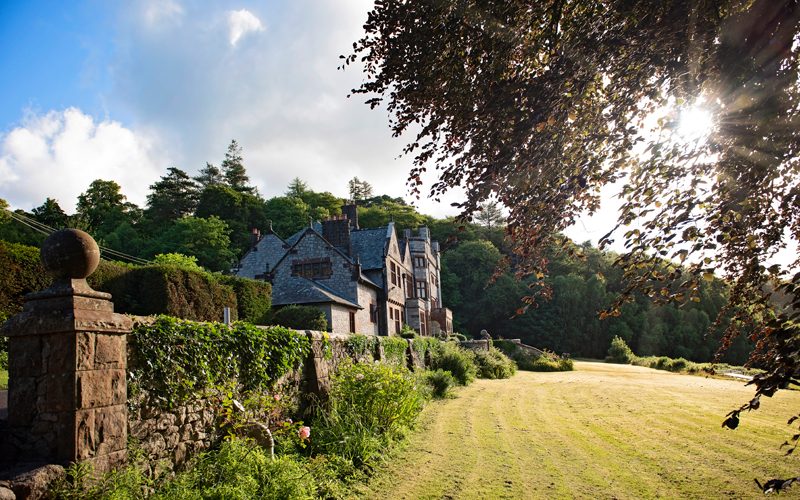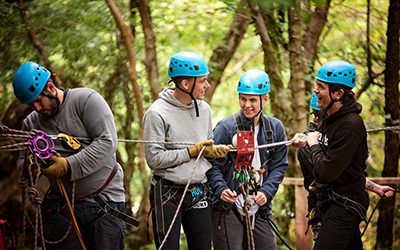 Perfect remote location for Learning and development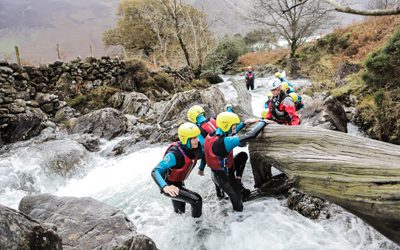 Eskdale, Lake District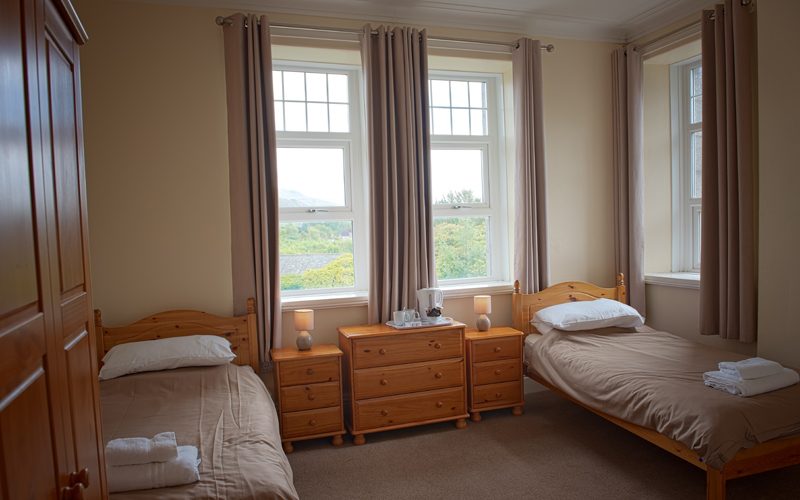 Sleeping, wifi and eating
If you're on a programme at Eskdale, you'll stay in a twin or triple room within our grounds. All rooms are ensuite and we provide bedding and towels. All of the energy supplying our accommodation comes from our bio mass and air source heat pumps, so even if you're last in the shower there will be plenty of hot water.
In the main house there's a bar, a games room and plenty of space to chill out. We hope you'll spend your down time talking to the people you're here with – but if this gets too much you can access wifi from the main house.

The food at Eskdale is made fresh every day by our team of chefs. They use locally sourced ingredients and can cater for all dietary requirements. With plenty of choice for breakfast, lunch, dinner and snacks, we can promise that you won't go hungry at Eskdale. In March 2019 we retained our 5* food hygiene rating from the Food Standards Agency.

What to expect from your programme
It's a cliché – but you'll get out of Outward Bound what you put in. During your programme you'll work in a small group and will have an instructor with you all the way.
There aren't traditional classrooms at Outward Bound. No death by Powerpoint. You'll be outside, maybe rafting on our tarn, walking up a mountain or canoeing down the river. And when you come back to centre, you'll have a dedicated review room where your group can talk about what you've learnt and how you can apply that back at work or college. So take a risk, get stuck in, you have nothing to lose.
#morethanyouthink
Digital Map
If you're looking for our postcode for your sat nav, please read 'getting here' above first.
A bit of history
The Gatehouse at Eskdale was built in 1896 as a country retreat for Lord Rea, a Liverpool coal and shipping millionaire. The grounds were designed by the the famous landscape architect, Thomas Mawson of Windermere. Lord Rea was disappointed that the Gatehouse didn't have it's own tarn and so he built one!
Outward Bound bought the house in 1950 and Eskdale became our first Mountain School, joining our two Sea Schools in Aberdovey, Wales and Moray, Scotland. Lord Rea acted as Chairman of the School in the early years and his local knowledge proved invaluable to Outward Bound gaining acceptance in the area.
The house became a Grade II listed building in 1967 and there are still lots of original arts and crafts features to be seen, including the copper fireplaces, wood panelled billiard room and the stained glass window.

Outward Bound's work at Eskdale was often pioneering. Until the 1950s Outward Bound courses had only been available to young men aged 14-19. Eskdale changed this, running occasional courses for girls and courses for 'seniors' (men aged 20-25).
Eskdale also replaced the traditional track and field events used by the Sea Schools with a revolutionary alternative: 'circuit training'. Circuit exercises produced fitness and stamina much more aligned with adventure in the mountains, and circuit training became a well established part of the four-week courses.
Outward Bound Alumni
Are you one of the 1.2 million people who've been on an Outward Bound course in the UK since 1941?
Was your course at Eskdale? We'd love to keep in touch!