Our take on the Outdoor Education Bill in Scotland
"We firmly believe that every young person should have the opportunity to benefit from an outdoor residential experience, which is why we support Liz Smith's MSP proposed members' bill. Every year, thousands of children and young people miss out on an outdoor education, and often it's money not mountains that stand in their way. We know this first hand, which is why 80% of Outward Bound participants receive charitable funding. That's why we broadly support this proposal in the Scottish Parliament. Of course, there is nuance and caveats to be hashed out and explored by our politicians, but by simply having the conversation around equity of access, we can start to shine a spotlight on the true value of outdoor residentials for all."

Martin Davidson, Chief Executive – The Outward Bound Trust
The Outward Bound Trust supports the proposed Members Bill in Scotland because, at its heart, it addresses the fundamental need for equity in outdoor learning. No matter who you are or where you are from, outdoor education should be available to everyone, not just those who can afford it.
But it's not all about the money, these proposals represent an acknowledgement in the value of outdoor learning. While there may never be a Higher in hiking, Baccalaureate in bouldering or a National 5 in self-belief and resilience, these kinds of experiences are just as meaningful and important (arguably more so) in unlocking potential in young people as learning to read and write.
Every week, we immerse young people in the unpredictability and beauty of the outdoors, to inspire them in lessons of self-belief, determination and resilience through experience. Sure, not everyone does it the Outward Bound way, but there is strength and significance in all outdoor residentials that deserves to be recognised. This is a chance for Scotland's education system to step outside its comfort zone.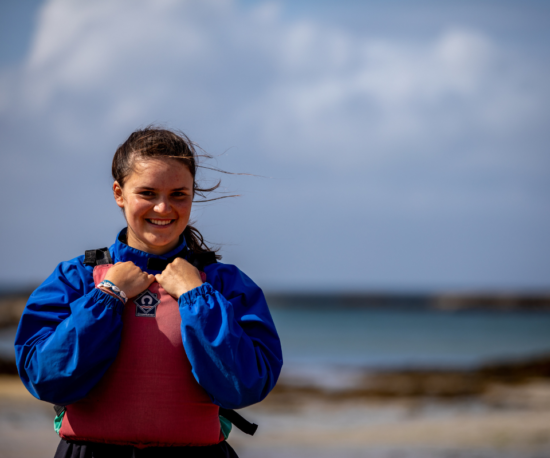 A line in the sand?
There is also a chance this proposal may come to represent something far greater - a line in the sand. A line that, if crossed, we risk sliding further towards a future that forgets the value in play, practical experiences and compassion amongst our children.

In many ways, this slide has already begun:
Since 1995 breaktime has been slashed by an average of 65 minutes per week for 11 – 16 year olds.[i]
Almost 1 in 4 young people don't feel adequately prepared by their education for the world of work.[ii]
A quarter of Generation Z say they "have very little tolerance for people with beliefs that they disagree with"[iii]
But it doesn't have to be this way. These proposals are a chance to say, 'enough is enough' and set an example for the rest of the UK to follow – that learning outside the classroom should be part of our curriculum. The need exists, and most young people agree that being in nature makes them feel very happy,[iv] so why not harness that need and happiness for the betterment of future generations?