Back to our blog
Why I'm running the London Marathon for Outward Bound
Mel Keeble, aged 49 from Yorkshire.
Mel Keeble works for Rab and Lowe Alpine, one of Outward Bound's partners, she tells us why she has signed up to run this year's TCS London Marathon for Outward Bound and in support of young people.
Why are you running for Outward Bound?
The company I am proud to work for have partnered with Outward Bound since 2019. Since their inception, Rab and Lowe Alpine have been built on a passion for the outdoors and adventurous spirit, and in partnering with Outward Bound, they have been able to share that through a joint mission. As my values are so aligned to this passion and spirit for adventure, I'm really keen to support such a fantastic charity.
I love my job, so I wanted to represent them in the best possible way. I also love the outdoors and I know first-hand from friends and my childhood that not everyone gets the opportunity when they are young to learn through adventure in the wild. This charity can make that possible for some that would never otherwise have the chance.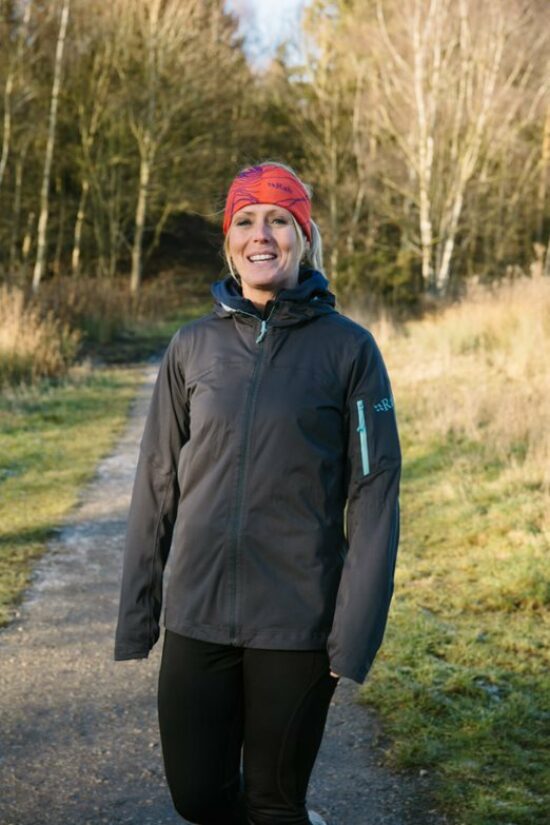 Why did you sign up to the London Marathon?
The furthest I've ever ran is a half marathon. After running the Great North Run some years ago, I remember saying "who in their right mind would want to do double that distance". Then found myself putting my hand up to volunteer recently. As I turn 50 a week after the race, I want to be the best fitness I've ever been as I hit this milestone. Age is a number and I'm keen to prove that. You are never too old! I absolutely recognise the enormous challenge that this is, I respect it and I will endeavour to conquer it!
Have you started fundraising? If so, what are you planning?
My approach to fundraising has been structured and methodical.

BRAINSTORM & RESEARCH - I've gathered many ideas from people I know who have fundraised previously and borrowed a few ideas from the Gymnastics club where I coach once a week. Focus on what I can offer people in return. For example, in March I will be offering weekly fitness sessions at my work that will be cheaper than you can get in any gym. It only costs me one hour a week and people get something for their money.
SCHEDULE EVENTS - I've split all the ideas into a critical path for what to tackle each month. Otherwise it can become a little bit overwhelming, it takes a lot of planning and effort to raise this much money!
ASK FOR HELP - I've not been shy about asking for help. People who are great at organising for example, I've asked if they can help planning. People who have venues I've asked to host Quiz's. Friends who own businesses or work for large businesses I've asked to donate raffle prizes etc.
ADVERTISE - Fortunately, we have a really good 'News hub' at work so I can advertise my events on there, but I'm also posting regularly on social media. (Facebook / Instagram/ LinkedIn /Strava etc) training dates and asking for sponsors so its fresh in people's minds. If you don't already have a neighbourhood WhatsApp group, get one set up to share news, updates for the benefit of the community. This opens up potential to have garden tea parties or garage sales as you get to the warmer months!
So far I've collected money on my donation page, sponsor forms, World Cup sweepstake, Sample Sale (Donation from husbands workplace) Pie Sale. I've got a Bake off competition (with cake sale) in the diary and a curry night booked. Smarties have been given out for people to fill with 20p's and to return to me. March and April will see "guess my time competition", Race night, Raffle Grand National Sweepstake and a tombola.
What are you doing to prepare for event day?
I downloaded the 16 week training plan from the fundraising site and I'm following it to the letter. Everyone says if you do the training, you will succeed. I'm really strict and whilst I tend to swap Friday with Sunday to suit my diary better, I make sure I do the required amount each week.
Some days I cannot lie, getting out of bed and going out in to sub-zero temperatures has been hard, but once moving, I enjoy it. I think the endorphins have given me energy to tackle everything, from work to household tasks. I have a newfound energy and its having a great effect on all aspects of my life. I'm already working out which socks, underwear and accessories are comfortable to run with and I just replaced by very worn-out trainers. As the miles increase, I'll also test out nutrition ideas for before and during the race. Preparation is key!
What would your 3 top tips to anybody considering running a marathon be?

1. Believe in yourself. You are stronger than you think you are.

2. Do the training. Do not think you can complete a challenge of this size without putting in the hours beforehand or you risk injury!
3. Focus on the end goal of achieving something you'll be proud of for the rest of your life. Visualise yourself running across the finish line. This will help you get through the days when your friends are at a party, and you are out running in the very British weather wondering what you are doing!
RUN THE LONDON MARATHON YOURSELF
Feeling inspired by Einir? Join #TeamOB and run the TCS London Marathon for Outward Bound. You can help us to change young people's lives for the better.
WE'RE HERE EVERY STEP OF THE WAY
When you run the London Marathon for #TeamOB you will have access to all our support, including advice on successful ways to raise your sponsorship and a full training programme.