If there's one thing we can agree on it's that we're living in a time of change. As we think about young people's wellbeing, we're sure that connecting to nature is one of the best ways we can help promote young people's mental health and wellbeing.
Here's a fact for you...
The Children and Adolescent Mental Health Survey (CAMH) 2017 survey reported that one in eight young people aged between 5 and 19 have a clinically diagnosed mental health problem.
Stop and read that again. One in eight. That's a staggering number. And what's more, countless others struggle with challenges such as bullying and bereavement which also have a negative impact on their wellbeing.

So what can any of us do?
Wellbeing and health are holistic terms, referring to our physical, mental and social states. They mean more than just the absence of pain but also having a sense of purpose, achievement, and security.

At Outward Bound we want to help young people defy their limitations. We work with young people to develop behaviours that will empower them to take charge of their personal wellbeing and overcome any challenges they may face.

Nature's role in wellbeing: an Outward Bound approach
We understand how closely minds and bodies are linked. We make use of the outdoors as the perfect setting to promote young people's physical and mental health.
This approach is more than just our belief. There is a large and growing evidence base showing that exposure to the natural environment positively affects our wellbeing. Even GP surgeries are now authorised to issue 'nature prescriptions' to help treat a range of physical and psychological conditions. What's more, research from What Works Wellbeing revealed that the lower a person's wellbeing, the bigger the impact access to green space and heritage makes.

The role of outdoor residentials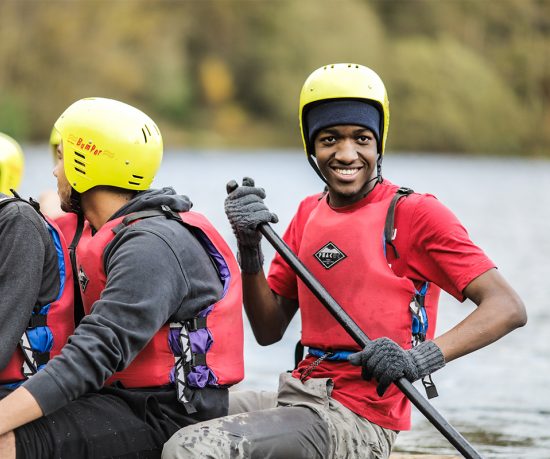 Outdoor residentials provide a tailored opportunity for developing and enhancing relationships by taking part in physical outdoor activities as a team. Outward Bound participants are fully immersed in our wilderness environments, helping them reconnect with nature, which is an important predictor of subjective wellbeing. Research suggests that being in a natural environment and connecting with nature is associated with an increased awareness of experience, fostering mindfulness practices.

Outward Bound programmes are specifically designed to develop young people's self-awareness and self-concept, by encouraging them to pay attention to their thoughts and feelings, their bodies, and their surroundings.
Residentials in the natural envronment
Natural environments can play a key role in increasing activity levels, and individuals with easy access to nature are three times more likely to participate in physical activity and 40% less likely to become overweight or obese. On all Outward Bound programmes, young people will undertake physically and mentally challenging tasks in the outdoors, and therefore an element of physical activity is integral to what we do. Natural environments can be used to encourage people to take part in physical activity and our programmes seek to help our participants discover the enjoyment of moving in the outdoors.
Natural environments can also provide young people with lots of opportunities for learning – through developing ecological knowledge, physical literacy and social competencies; and cognitive skills, through for example engagement in an environmentally-focused curriculum.
Research suggests that spending time in natural environments encourages generosity as individuals focus on others more, and there is a greater chance of developing satisfying relationships.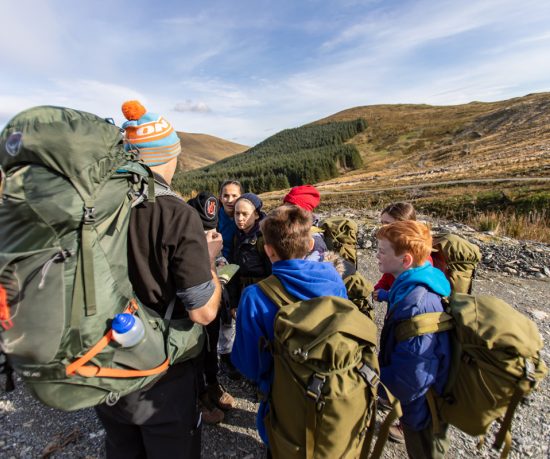 At Outward Bound, young people work together in groups of 12. They complete all their activities as a team, supporting and motivating each other, using each other's strengths and working on each other's weaknesses to ensure that everybody succeeds in their own Outward Bound journey. There is no 'I' in team and these actions of 'giving' and helping others can stimulate a sense of vitality, self-esteem, ameliorating feelings of psychological distress and promoting mental wellbeing.
Healthy: inside and out
We hope you agree, immersing yourself in nature has some pretty mega health benefits. With #gowildforwellbeing - we're advocating getting outside and connecting with others as a means of connecting with our own mental health. It's essential that we help our young people to understand ways in which they can improve their personal wellbeing, and spending time in nature is a great place to start.
Want to read more on how connecting to nature supports young people's mental health and wellbeing? We've put together an in-depth report to help support schools, parents, and employers with the young people in their lives.