Back to our blog
55 years on and the memories are still strong
Guest blogger Les Talbot shares his incredible memories of attending the Raleigh Watch 199 course at The Trust's Aberdovey centre, many year's ago.
It was 1960 when the opportunity arose for me to attend an Outward Bound course, an opportunity that I simply could not ignore, and after watching the BBC television show – The Challenge – I was more than inspired to do.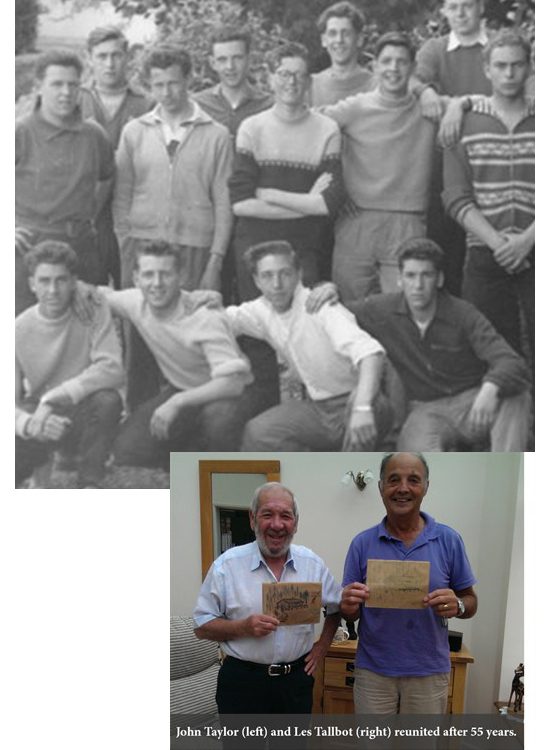 My involvement with the local church, scout group and DofE award put my application in good stead but it still took months before I heard back. In fact, when it was finally agreed I could go there were no junior courses (14-16yrs) available that didn't clash with school exams, so they bent the rules slightly and allowed me on a senior course (15 ½ to 19 ½) for which I was a month under age.
The education committee paid the fee which was 30 guineas, (£33) and my parents paid for my travel expenses. Before I knew it, it was the month of May and I was whisked away to north Wales for an experience that I would never forget.
There was something like 120 boys on the course divided into groups (or Watches as they were known back then) of about 12. The activities we experienced were many; from cutter rowing and sailing, athletics, first aid, 4 days at sea in the Ketch and a 5 day expedition into the mountains. Each activity would bring with it its own challenges and difficulties but Raleigh Watch was a close knit team and not a single cross word was exchanged between any of us throughout the course.
For me, the most exciting activity was sailing the cutters. It is surprising to note how skilful we became in a very short space of time. Come the end of the course I don't think there was a single one of us who could not skipper the boat under oar or sail without some degree of confidence. The hardest part meanwhile, was the 5 day trip into the mountains. I found it particularly challenging to keep up. The packs we carried were incredibly heavy and it felt like the straps were cutting into my shoulders like knives. When you took them off you felt as though you were walking on air!
One particularly amusing episode I can call to mind from our expedition was the matter of the loo. The loo was a crude affair in the forest, it comprised of a long trench straddled by two logs. The toilet roll was on a small branch adjacent. Mr Strudwick, our expedition leader, always went at a particular time. One morning we moved the toilet roll to a branch 6ft above his head height. Mr S went at his appointed time and we all listened. Well the expletives were deafening. When he returned we thought we would be in for it, remember it was quite militaristic back then, he was an officer and you did not take the mick, at least not until the last day. However, we needn't have worried he came back with a smile on his face and said it was the first time he had climbed a tree with his trousers down.
Overall my Outward Bound course helped me to achieved things I would never have considered myself capable of or even thought possible. I learned to work alongside my Watch mates as a team and made friendships with people from a range of different backgrounds and geographies. When we departed we promised ourselves we would arrange a reunion but no doubt the demands of our lives took precedence and communication is not what it is today, so it never materialised.
I have returned to Outward Bound Aberdovey on a number of occasions since, in 1968 and 1988 while holidaying, and again in 2001 for the 60th anniversary open day. I also had the pleasure of collecting my grandson, when he completed his very own Classic Course in summer 2006. In January 2015 I also attended an Outward Bound Discovery Day in London, hosted by Outward Bound Generations. However, it was in July this summer that I finally managed to meet up (after 55yrs) with a fellow member of Raleigh Watch, John Taylor, who had traced me through Outward Bound Generations some years earlier. Although we had exchanged cards and updates at Christmas we had never met until then. What more can I say other than that Outward Bound has and continues to provide me with the most incredible experiences.
Outward Bound Alumni
Outward Bound Alumni was established in 2009 as a way to reconnect with our former participants.
Support The Trust
Our work has a powerful impact on developing skills for school, work and life, and improving social and emotional well being.