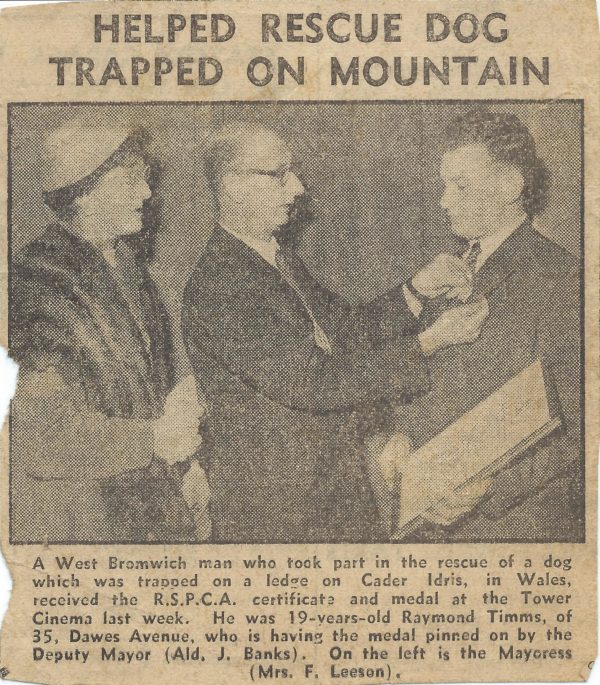 As I start to write today (19.55. 25.03.2017) I look back to my OBSS Aberdovey Log, exactly 60 years ago. "We had a huge Supper at 20.00 hrs. I then turned in very early. It was very interesting and enjoyable day." We had just completed the Cader Idris Expedition! The greatest challenge for me was in just getting on to a Course.

I was just over 18, working as an Engineering Apprentice for a company that was part of Tubes Investments. Of course I couldn't afford the Course fees, was it about £400 at that time? Tubes Investments did not want to sponsor me. "I may be a wage slave on a Monday, but I am a free man on Sunday" (Ewan MacColl). Not a wage slave in Manchester but in Birmingham. Being a free man on a Sunday, a Saturday, and at holidays, I discovered the Youth Hostels Association……who was supported by Birmingham Education Committee. Course fee problem solved.

The Tubes Investment's Company gave me the four weeks' time off, no pay! but they gave me £5.00 pocket money. I was on the way, Course 167 for me started on Snow Hill Station. I was pleasantly surprised to find, on the platform, a school friend I had parted with in 1954. John Stanford was also going to Aberdovey for the same course. That was the last time we met for the next 28 days. We were too busy, learning about maps, compass, knots, splicing, coiling ropes correctly, pulling and sailing cutters, canoeing and of course a two day expedition on the 'Golden Valley' (No sails, the Sailmaker was off ill) out in Cardigan Bay. etc.etc.

Towards the end of the Course I seemed to be spending a lot of time up on Cader, four days after the expedition I was back up there again. This time as part of the Aberdovey Outward Bound, Mountain Rescue Team. (Apply Journalistic License.) The Readers Digest Dec 1963. "Young Adventurers of "Outward Bound", Article by Geoffrey Lucy, So keen is the enthusiasm of Outward Bound boys that they have sometimes triumphed where experienced adult rescuers have been defeated. When two valuable sheep dogs fell over a cliff near Cader Idris, a dangerous peak in North Wales, the well-trained local mountain rescue team was unable to reach the ledge where they lay. Firemen with special rescue equipment had to give up, too. In despair, it was suggested that the dogs should be shot to end their suffering. But their owner phoned Outward Bound at Aberdovey, a few miles away. A rescue team of youngsters arrived, eager to use their new-found skill in real earnest. Two boys volunteered to be lowered over the dangerous cliff to the narrow ledge. They found that both dogs had broken legs, but the boys coaxed them into packs, slung them over their shoulders and were hauled up to safety. The animals recovered and are still working.

"We're not trying to turn out he-men," says Sam Hayler, deputy warden of the Aberdovey School. "We just try to show each boy that he'll overcome most of the obstacles in life – if he'll have a go". "The boys are not competing against each other; they are competing against themselves".

It makes interesting reading but not completely accurate. The "two valuable sheep dogs" just didn't fall over a cliff; they were chasing a fox at the time! The Dolgellau Fire Service, Mountain Rescue Team was unable to reach the ledge because they couldn't see it. It was covered with cloud at the time. The Outward Bound Team approached the ledge from the top of the ridge, where they could see the ledge. "They found that both dogs had broken legs" There was only one dog on the ledge with a broken leg, the other dog had been able to get itself off the ledge and back to the farm the day previously.

Geoffrey Lucy did not credit the R.S.P.C.A. so I will. A number of the boys and the leader, Pilot Officer "Johnny" Jones were awarded medals by the Society.

I left Aberdovey with honed and improved skills, after leading a team of twelve or was fourteen other guys of around my age who I had never met before. Going back home on the train, I was beaming with confidence. I can do anything and I had a certificate to prove it. Ten years later, I was training to be a Professional Youth Leader in Leicester. My first post was in Gloucestershire, where I was there for five years. I then moved into Northamptonshire, where I served in a number of posts, ending up as the Divisional Youth Office for the town of Northampton.

In 1957, the words inspire or inspiration was not in my vocabulary, looking back now, I realize that I discovered it at Aberdovey. It came from Kurt Hahn, the whole ethos, and all of the staff in particularly, Mr.Fuller, Sam Hayler, and Alan Clegg and of course "Johnny "Jones. Ray Tims.