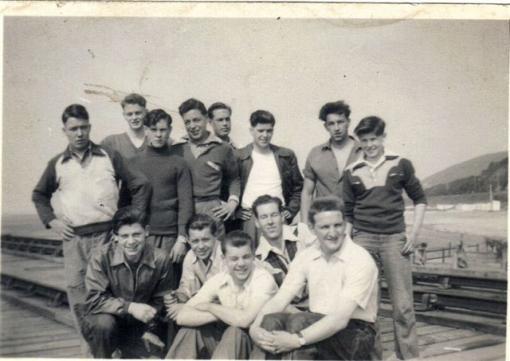 I was about 18 when I went to the Outward Bound School. Two of us apprentice lads were picked out of about 150 apprentices that worked at my firm of J&E Halls Ltd., Dartford, Kent. To be picked to go to the Outward Bound School for a whole month, paid for by them, was an honour indeed for me. Catching the train from London to take us to the school, it was just pulling out of the station, which meant us being pushed into a crowded corridor of the train by a porter, because it was filled with boys going to the school. We had to sit on our suitcases in the corridor all the way to Aberdovey.

Leaving the train at Aberdovey station, we were shouted at by a member of staff to "stop smoking, put your luggage in the back of a truck, and walk with him" to the school. Next day I think, all the school was separated into about ten Nelson watches, where about 13 boys were put into each watch, I was in Drake.

The whole school was given strict instruction rules by the head, about no smoking, that we were to wear the school uniform when we were allowed out, that shops, pubs, were not allow to serve us alcohol or cigarettes - I at the time did smoke and felt, what have my company let me in for?! I was medically examined by the school nurse, weight, height, etc.

Each watch had to choose a captain and a quartermaster; I was chosen the quartermaster, a title later I wished I never had accepted.

The second day we all had to walk 5 miles, then in time leading to a 10 mile, a 15 mile and eventually a 35 mile walk, over mountainous terrain, one walk I shall never forget with a school master with us, our watch captain with a map and compass, let us walk miles and miles out of our given route, we were looking for a shepherd's hut so we could rest and have our packed lunch, but because of the fog on the hills we had lost our way, remembering it well, one of the boys said to the master, "I think we are going the wrong way sir", but he did not say a thing, but let us guess and fumble about, eventually we found the hut to have our long awaited food and drink.

Before going to the Outward Bound school, I had never been active in any sport, could never stand football etc, but we had to do all sorts of running, long jumping, high jumping etc, swinging from trees etc, can you ever imagine running though the bushes following the boy in front when he jumped, you jumped, well it was about a 15 foot drop, but looking back on just that jump without knowing where I was going, I did it.

Why I regretted being made a quartermaster was, the school had its own sailing dinghies, and whalers, and I wanted to go out sailing with my other watch mates, but I was not allowed to, as I had an important job to stay on the jetty, and log the times, the positions of all the sailing dinghies in the school log book, so should there be a dinghy lost they could read the log book to see the last time and bearing the sailing dinghies was going in. Another one of my duties as a quartermaster was to raise my watch flag and take it down on the schools flag pole, in front of the whole school.
During the month the different watches competed against each other to win the title of raising and lowering the town lifeboat the quickest, and making it ready for sea. The town people came to watch this event, and our Drake watch was the quickest ever to do this, on the 129th course - we were all clapped and I had the honour to raise our house flag on the pole. I often wondered if the record had ever been broken.
One thing I did enjoy immensely, was going out on the Warspite for a few days, climbing the mast, taking turns at the helm and standing watch, two of us had a night watch turn for about an hour, and was told to call the captain if things were not right, because it was dark and we were anchored near shore, we could see the on shore lights, but they seem to be moving, both of us thinking that the boat was dragging it's anchor we woke up the captain, he said that the boat was turning on the tide.

As said above, I was never an athletic boy at the time of going to the school, but spending just one month there with all the activities that went with it was good for me, I felt fitter, healthier, more like a lion if I recall. And looking back about 56 years ago, it made me a stronger person. Thanks Outward Bound.