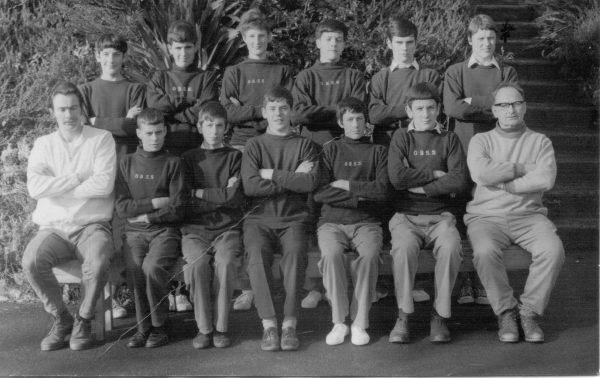 The photograph of the Rodney Watch. The other is submitted separately.

Aberdovey – 31st January 1970 to 26th February 1970.

Watch Officers: Captain S Hayler and Mr S Tierney.

I remember when I joined my secondary school (in Leicester) seeing a person being presented to students as a person who had just come back from an Outward Bound (OB) school. He could replace the school badge with the one given to him by OB. At that point I wished I could go.

Five years later, and I do not know how the selection was made, but my friend was selected. As it was exam year, he decided not to take up the offer. They turned to me and I accepted.

Just to put some further perspective on things. My school offered rock climbing as an activity for the afternoon games' period. A group of us opted in. We would travel by local bus to places like Bradgate Park in Leicestershire, and Beacon Hill. In those days we would be given prepaid tickets for the bus. Sometimes, the teachers would offer lifts back to the school.

There was an outdoor pursuits centre in Leicester, and this is where I learnt to canoe. We'd have races on the river soar. Years later, when I was working for the Leicester City Council (the then Recreation and Arts department) the centre had acquired a small dry ski run. I knew the centre manager, and I used the run, I was already an accomplished skier from my college days. The manager asked if I'd be interested in helping teach youngsters the basics. I did this for quite some time.

Back to OB. I had very little by way of the right clothes. My science teacher gave me a very good waterproof. My headmaster gave me a jumper, which was his son's Cambridge blue. He gave it to me with the words: "you will never get one of these". It is true I didn't; I went to Oxford. :-) However, I never got a blue there as well. :-)

My father was 73 in 1970, and on a pension, hence the reason I had very little by way of kit, but I managed to muster some together.

I travelled to Aberdovey by train from Leicester and changed in Birmingham; nearly a five-hour journey. At Birmingham I started to see others going to the same place. My memory is vague, but I think we were picked up from the station and transported to the school.

We were assigned to our respective watches, and mine was Rodney. One of the tasks would be to vote for the captain or watch lead for the first week, and then it would change each week. I was elected. Inspections were daily and our watch maintain a high standard. We would be checked by a competing watch and instructors. I think our standards were high that week, not due to me, but due to everyone being new and wanting to impress.

You never forget the cold showers.

In those days, I didn't eat cheese. Our packed lunches consisted of a chunk of cheese and a flapjack. I exchanged my cheese for someone else's flapjack, with people who were unsure of its content. Unfortunately, that didn't last long. I did get the recipe, and put it in my scrapbook, but due to the passage of time it has disappeared.

Our first rock climbing expedition was to a cliff area near Tywyn. I was familiar with rock-climbing protocols, but it was the first time I'd been shown a clever way to do a bowlin knot. We undertook: a chimney climb, an abseil facing down to the ground, and an abseil from an overhang into the entrance of a cave.

Our next expedition was to abseil down a 150-foot mineshaft. With only the lights on our helmets for a guide, and from those looking up. It was better not to see, given height…. :-)

Canoeing was a bit bizarre for me. I felt I was accomplished at doing this, but on the Dovey estuary, I found I was way behind the rest of the group. It felt like I had a concrete canoe and Mr Tierney was shouting at me to get a move on. I think I failed miserably at this task.

Then to the 28-foot cutters. We had the wind behind us as we sailed out, and the idea was to return by tacking. It was understood that the tide would be on the turn on our return, but the wind would save the day. Unfortunately, the wind dropped. We had to make our way back by using the oars. By the time we got back, we were all totally exhausted. I was so hungry I even ate the cheese, by holding my nose as I chewed. The flapjack helped get rid of the taste.

We undertook a 50-mile expedition broken up by one night in a cabin and another under canvas. Our end goal was Cadair Idris; I don't think we travelled any further way up past Llyn Cau. This exposed a lack of knowledge on my part. Before we set out, and I must have missed part of the briefing, I was given a black plastic bag. I packed my rucksack with clothes and placed the bag on top. My thinking was that it was for dirty clothes. On our trek to the cabin, we encountered a torrential downpour. I was soaked through to the skin. On arriving at the cabin, I felt I needed to get into dry clothes. I opened my rucksack to find all my clothes soaked too. The bag was to place the clothes in as the rucksack wasn't waterproof. I got marked down for not engaging in the other activities, as I was trying to get my clothes dry.

Drown Proofing – A technique to survive in cold water. The outside pool was used for this and required to stay in for 6 hours. I completed this task as did, I think, three others. I still have my tie.

Finally, the assault course, which had been practiced, but this time it was against other watches. I was to be the anchor on the wall, and others would climb up me and then I'd be pulled over as the final act to then carry on. I really don't know how this happened, but the last person simply just pulled me off the wall. I landed badly on my back. I was in extreme pain and I couldn't move. It was decided to call an ambulance. It arrived and was going to take me to Aberystwyth hospital, an hour's journey. The ambulance driver seemed to find every bump in the road, which sent pain spasms up my back; I was given nothing for the pain. After arriving at the hospital and x-rayed, nothing broken and was return to OB in a bit of discomfort.

The last night – Before arriving at OB I was a smoker, but one of the conditions was: no smoking, and I stuck to that rule. We were invited to sign a book, only on the condition that we had stuck to the rules. I signed, but I saw others sign who had not done the same.

Matron at OB – Unfortunately, I cannot remember her name. Her outward appearance gave an impression of a stern woman, but this wasn't the case. Mr Tierney informed me that, as a nurse, she was one of the first medical people to enter Belsen concentration camp. I've seen old photographs on the Internet, and wonder which one was her.

I'll never forget my time at Aberdovey OB School. I still have a copy of my report that was sent to my school. It is a shame I didn't manage to keep in touch with those from Rodney watch. Although, in those days, we didn't have e-mail :-). I have uploaded a picture of them and of Sean Tierney and captain Hayler. Also, a picture of everyone who was there during that month.

I hope the above has been of interest. Thanks for reading.