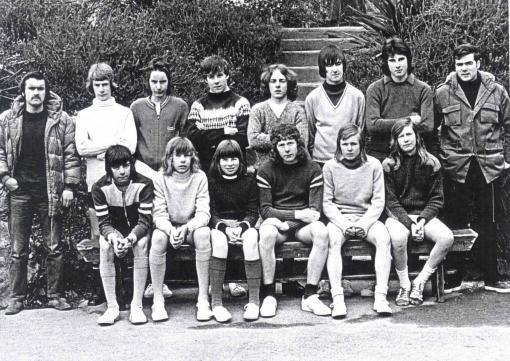 Below are extracts from my original Outward Bound diary (my log book) written when I was 15 years old, along with a copy of my Patrol photograph (I was in Drake watch).
I am on the back row in a white polo neck jumper, next to Bob Tushingham, our instructor.......
Best wishes,
Peter Halliwell
__________________________________________________________________________________________

Outward Bound Aberdovey
March 11th to April 6th 1974

Mon 11th & Tues 12th March
Arrived from the train at 5.20pm.
Had a good meal; we seem to get a lot. The first night there were lots of jokes told and it was very good to get to know one another. The next morning (like most mornings to come) we got up at 6.15am sharp for "plod & plunge". We also went on the ropes course which was smart....
Friday 15th March

After breakfast we went down to the wharf and roved the cutter and had a water battle with Hawke Watch, after we rigged the boat. In the afternoon we went abseiling down the practise wall. After tea, a talk was given on mouth to mouth and mouth to nose resuscitation. The evening was spent packing for tomorrow's expedition to the log cabin.
Wednesday 25th March

There was no wind this morning so we couldn't go sailing but instead we visited the girls Outward Bound school but unfortunately there were no girls there! We tried their ropes course which was reasonable. In the afternoon we had a knots exam which I found quite easy. We then had a talk on first aid, followed by a steeple chase, in which I came third overall in, with a time of 3 minutes, 18 seconds. After tea we had a lecture on sailing by Gerry and after returning to the hut, wrote letters until lights out.
Tuesday 2nd April
After breakfast we set out on our last expedition. We walked hard all day in the mist. The weather brightened up at night, and we camped at a beautiful campsite by a freshwater stream. We cooked a good tea and after playing cards, retired to our beds.
Wednesday 3rd April
Had a beautiful sleep, we got up later than expected. Had a cold splash in the stream, and cooked porridge for our breakfast. We packed and moved on in groups to the foot of Cader Idris. We all met up at a typical glacier tarn and had a brew. We then set off on the climb. We reached the summit after a hard climb and walked the rest of the way to the campsite. We reached the site and camped once again by the side of the stream. We didn't eat much, but had a few brews.
Thurs 4th April
Slept well and after cooked beans for breakfast, we packed for the next walk. After setting off, we rested and bought toffee at Aberaberllaney. We then walked along the road to Corin. We were left by Bob and told to find our own way to the log cabin. We tried our best and only went the wrong way once; a few gave in and hitchhiked all the way. We carried on and reached the cabin. After dinner, we set off on another great walk to Penall and I had a brilliant talk with another lad in my watch - IBBS. We met the rest at Penall and got the rescue truck back.
Saturday 6th April
Got up at 4 o'clock in the morning to catch my train and arrived home in time for dinner after the best month of my life.