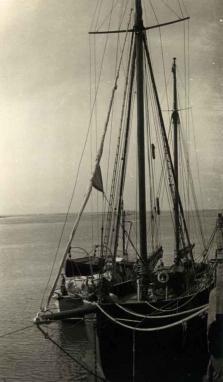 I left school at the age of 14 for employment with Accles and Pollock Ltd., tube manufacturers, as a trainee Millwright. The company were excellent to work for, taking a keen interest in all junior staff. Eventually they sponsored me for an Outward bound Course at Aberdovey. I arrived at the sea school on the 1st October, 1949, joining course number 88. The time I spent at Aberdovey left me with many happy memories, even though it was quite a tough and demanding course it was very enjoyable. The morning consisted of a run down to the river for a cold dip. I recall the time we were dropped of in the back of beyond with a pack of sandwiches, a map and compass, finding our way back to the school over the Welsh mountains was quite a challenge. In those days the school had two 80 ton ketches, the Garibaldi and Warspite. Along with a number of other students we spent a few days at sea, I was on the Warspite, sleeping in the chain locker, a storm brewed up, it became very rough and we had to make a run for port at Abersoch. I was very fit back then and managed to win the 2 mile road run with a time of 11 minutes.

The school had three levels of award, pass, standard and silver, my hope was to attain silver award but I dipped on a few subjects, however I was more than happy to receive my standard award. I was already a member of several organizations, including the Sea Cadets, boxing and running clubs. By attending the school I feel it helped develop my character during my teen years. Last year I called in at the school when passing, it had changed beyond recognition. The Staff made me most welcome and I was amazed when they produced my records.

After two years National Service with the R.A.F., I spent 26 years with the Police and thirteen years employed by the Foreign and Commonwealth Office, serving in such exotic places as Moscow, Tokyo, Jakarta, Washington D.C., The Hague, and Prague.

I have two Daughters and five Grandchildren, all of them University Graduates, in a variety of jobs from Bank Manager, Business Consultant, Lab. Analyst,Park Ranger(Aus), Guide-snow board instructor.(currently in Japan).

Now I am in my 82nd year, enjoying my retirement in Devon, still living with the lovely lady I married 59 years ago.