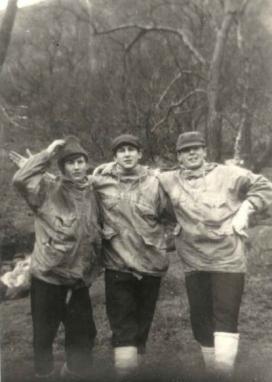 COURSE U84 18th November – 14th December 1963

Mallory Patrol

On arrival at Penrith station the cigarette was removed from my mouth and stamped on. I feared the worse! I was a reluctant participant (having been nominated by my Company) and my attitude in the first week reflected this. However, all this changed when I met our instructor Cameron Whalley - the first person that I had met in authority in my adult life that was not interested in ego only what was best for us. Sadly, Cameron died this year after a fascinating life: http://www.telegraph.co.uk/news/obituaries/9399051/Campbell-Whalley.html.

In retrospect I wish that I had asked him many more questions about his life, but he was a very private man. I kept a letter from him for nearly 50 years, such was his influence.

Interestingly, although Cameron had a major impact on me, the other instructors were not far behind proving that life is all about people, and once trust was established my performance and enjoyment was absolute. OB increased my confidence and made me more inclusive. This was illustrated when on our final excursion we got into trouble on Helvelyn and one of the lads lost his clothes, and most of his food from his rucksack in high winds – we quickly shared, no thought, no problem.

It is hard to say what impact 4 weeks in 1963 has had on my life but on my return home I left for London, and subsequently lived abroad for many years. I doubt that I would have had the confidence to leave so soon (if at all!) without OB. I have very fond memories of my time at Ullswater, and the return visit last week was a joy.