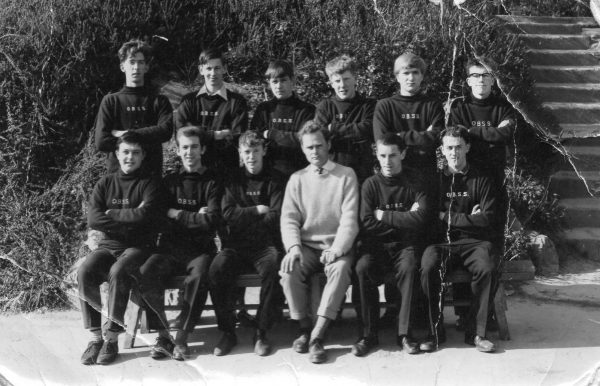 It was Saturday 29th February 1964 when I set off from Paddington Station on the Cambrian Coast Express en route to Aberdovey. On reaching Shrewsbury, where I had to change, it became clear there were quite a number of us going to the same place. We arrived at Penhelig Halt at about 5.00pm chucked our kit into the back of a Land Rover and marched up to the school.
The following day we were sorted out into permanent watches and introduced to our instructor Mortimer Eulenburg who turned out to be absolutely first class. There were 12 in our watch from all over the UK and from all walks of life - Police, Fire Service, BAC, Marconi, RAF etc.
The group photograph only shows 11 of us because, on Friday 6th March, one of the guys got up very early, packed his bags and set off for the station to go home. The back of the photograph has been signed by everyone there and I also have a number of photographs taken in our hut, the school and on expedition.
The course was for 4 weeks and included horse riding which also meant mucking out the stables. One day we took the horses to the beach and I will always remember galloping along the waters edge - wonderful.
There were many activities to include horse riding, sailing, rock climbing, drown proofing, monkey ropes, jumping out of a window into a fireman's net, first aid, athletics, artificial respiration, mountain survival and discussion groups on racism, prisons, marriage, smoking and VD.
Watches were assigned rotating duties and responsibilities which included cleaning the showers and the 12 seater!! Another was galley duty involving serving the meals and washing up.
On Saturday evenings there was a film to which the young people of the village were invited including girls.
While down at Aberdovey wharf one day the boss, Captain Fuller, turned up with some visitors and before we knew it we had been seconded as crew and set off in the life boat with Captain Fuller at the wheel. Imagine my surprise when he grabbed me and said take the wheel. Going over the bar was always exciting and this was no exception.
Of particular note were the two and four day expeditions. The first was a trek to Birds Rock on Monday 9th March arriving at about 3.00pm then setting up tents and cooking a meal. Two of the guys nearly set fire to their tent trying to light the cooker. In the evening was a campfire, chat and sleeping bags by 9.00pm returning to the school the following day.
The four day expedition was entirely different. We set off on Monday 16th March for Harfotty log cabin which I think was at point 841 on the map arriving at about 2.30pm. Following a map reading exercise we got the stove going and cooked our meal, chatted and bedded down by about 10.00pm.
The next day we worked with the forestry commission in the Dovey Forest. It snowed most of the day. Had our meal and bed by 9.30pm.
Wednesday was the day for Cader Idris. We set and made our way down the valley to Abergynolwyn and from there to Cader. As we got nearer the snow got worse and deeper, we got to the top at about 12.30pm to be met with fairly deep snow. We came down a different route and then a blizzard blew up with the sleet stinging our faces, almost at the bottom Morti left us to make his own way back. Having got to the bottom we met up with another Watch, who had camped at the base, and then came out through Cader Gates making our way by road to Upper Corris. As we were walking through the village we came across the Cader Cafe (long since gone) and it was open. We piled in and it was hot tea all round. Covering about 16/18 miles that day we got back to the cabin to find that Morti had got our meal started. What an experience. Slept well that night!
On Thursday it was back to Aberdovey which took us down the valley up and across Tarren Hendre, along the ridge, and then down towards Happy Valley and home.
The next week went very quickly between the various activities and it was soon time to say our goodbyes.
I still have my badge and my log book along with some unforgettable memories. Two things I took with me from Aberdovey were achievement through teamwork and self belief. Long live The Outward Bound.