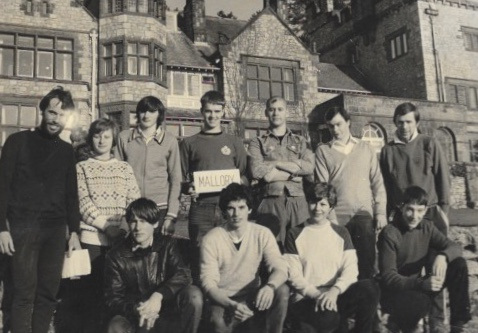 In 1957 I attended the course at Eskdale Oct.My patrol was Mallory and the lads on the group all got on well.I was an apprentice printer in Leeds and, to aid my development,I was sent on the course.This was the first time I had been the lakes and,to be honest, I disliked the whole experience.I saw no fun in jumping in tarns first thing in the morning.I saw no sense in going up into the mountains,getting wet and not been allowed to smoke.
I was glad when it ended and was able to buy cigs before getting on the train.So on reading this you must think what a waste of such an experience but things were to change.Some weeks later,when back at at work,a fellow apprentice who knew I'd just been on the course invited me to go climbing with him, for some reason I agreed and that was to bring together what I had missed whist on the course.I fell in love with climbing which led to my developing a love of the fells.
This carried on,introducing my wife to the hills,reluctently at first but continued until age caught up with us.I also had my two sons walking an early age in the hills and enjoyed many years together backpacking in the lakes, Wales and Scotland.
I have another story when I spent time at Eskdale as an instructor,as my work a Probation Officer enabled me to run such groups in Leeds,so I gained more knowledge the month I spent in 1981/2,not sure which year.I hopefully will add at a later date but my time in 1957,which was not appreciated at the time, led to a life time love of the hills.
The photo is my time as an instructor with my leader Mick Scott on the left, me on the right.