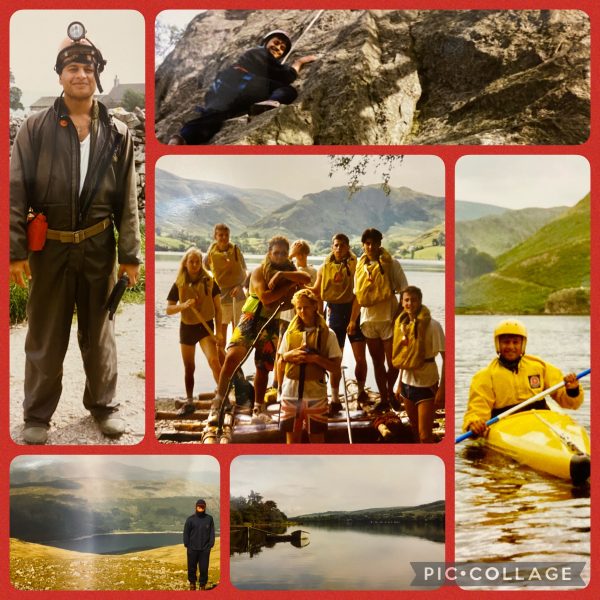 Whilst just clearing old file folders from 1990 (as we prepare for our onward house move), I came across a Outward Bounds Trust brochure and it made me reflect on my great memories from that 8 day course.

Back in July 1990, I was on a degree sandwich placement working year within Redifusion Simulation (aircraft and leisure) in Crawley, West Sussex. I had only just come back from a 3 week family US holiday and was just getting ready to start my first working block within the company.

Within a few days and to my surprise, I was duly informed by HR that I was being booked for a Outward bound course. Since I missed the first intake, I would need to join the younger apprentice group 17-19 on their course. Being 21, I would be one of the elders in group (grandad apparently 😂) I would have to put up with them (Mother of God!)

Whilst I was almost prepared for some of the experiences being in the scouts, I was both elated and fearing at the same time, they included:-

* Long hike into mountains and lakes
* Orienteering
* Mountain climbing
* Canoeing and walking on each other's canoes!
Tree dynamics
*Ice cold morning jump in beautiful lake- I totally froze!
*Raft building with team and floating!!
*Pot holing (Yorkshire Dales- long churn with cheese press)
* Long Zip wire

I can't explain everything here but each experience brought its own challenges but the pot holing (caving) was the most exhilarating and frightening at same time. Caving with tight holes and shutes, icy waterfalls and holding onto slippery stalactites was fab but the cheese press was an experience!! Basically you crawl between 2 cold clammy/slimy stone plates, slim enough to crawl through about 2-3 metres. If you laugh or cough you get stuck and also have to tilt your head. Also you need to remove your protective clothing as you need the space to move!!

I think the last last experience was a long zip wire, we broke into mixed teams and although it was a real rush, towards the end, some of the team (who help to stop the person on way down) decided it was a real laugh to yank my shorts down as we got to the end, so everyone got to see my Crown Jewels as I was holding onto the harness above till the end! Such a-holes!!! That's what you get if you go with teenagers 🤷🏾‍♂️🙄🙈😂🤣

The whole course was magnificent and I still think today how you can overcome some of your fears and proceed in life. Try anything once and more if you enjoy it?!

Recommended then and even now!! 😎👍🏾

The Lake District is beautiful and serene, but pity it took me 28 years to return in 2018.