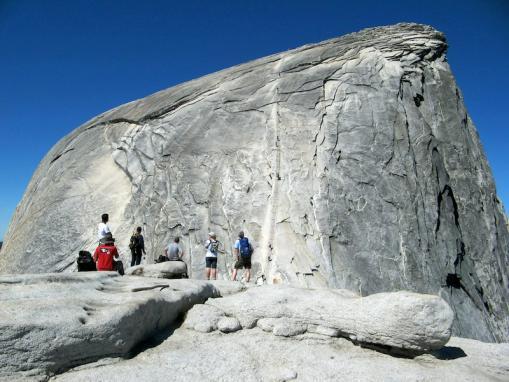 Several years ago I was serving in the military, unrelated to my job and for recreational reasons only, I was a qualified Mountain Leader (ML(S) [Tywyn, Wales] and ML(W) [Tulloch, Scotland]. I was lucky enough to have the opportunity to lead like-minded personnel on mountain walks and adventures, mainly in Scotland and the UK.
Prior to returning from a long deployment, several colleagues approached me. We quickly formulated, planned and arranged a multi-stage trip to the USA. The party contained a mixture of service personnel and their families, with greatly differing age difference, and varied mountain, outdoor experience and abilities. So careful planning was necessary to ensure that the inexperienced had an achievable and enjoyable itinerary, while the more experienced could have their abilities tested and stretched.

We started by flying from the UK to Denver in Colorado, where we picked up our 'minibus' and proceeded to the Durango area. This part of the trip we completed a multi-night backpacking wilderness trip, gradually gaining height from Vallecito Campground to a glacial lake below a group of 14,000 ft peaks. We set up a basecamp and over the next 2 days, climbed Mt Eolus, Windom Peak and Sunlight Peak.

Our next destination was Monument Valley, where we had a horse-riding lesson and an overnight 2 day trek into the desert wilderness led by local indians. Beans and campfires and everything you can imagine.

The next phase was Moab in Utah, where we had a few days camping and hiking in Arches National Park. We also went on a 2 day overnight white water rafting trip on the Colorado River, experiencing some of the more spectacular rapids sections. This was not a sit back and enjoy while guides do all the work trip. Our guides taught us what we needed to do, and we became the paddlers under their supervision.

Next we headed to the Grand Canyon, and after an overnight camp at the South Rim campsite, we started out early to the Ranger Station to collect our priceless pre-booked permits. We had 5 fantastic days inside the canyon hiking some of the more remote and little visited trails, before heading on out for our last campground BBQ and party.
We then drove back north the scenic route to Denver and our flight home.

I think this was a memorable trip because although it was planned, we only had a loose itinerary that gave us flexibility for change and adjustment. I know everyone thoroughly enjoyed all of the trip - not just the sections mentioned, but the unmentioned stops and sidetrips to Mesa Verde, Horseshoe Bend, Four Corners, Albuquerque among many others. Also appreciated was the varied activities and terrain, and the variety of camping, motels and accommodations used along the way. Also that the journey was broken up by road-trips that were not too long.
Many of us on that trip have more recently got together for a trip to Yosemite and the High Sierra's, climbing Mount Whitney, Half Dome and other peaks - and more white water rafting. We keep in contact and occasionally meet up although we've all gone our different ways. But it's the outdoor activities and trips we've done together in the past - that forged an unbreakable bond between us.