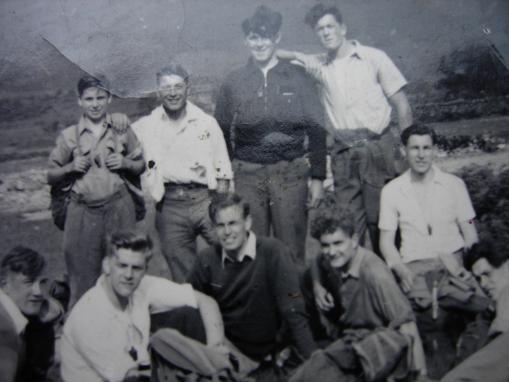 My name is John Barker and the photograph above is of myself and a group of lads that attended the Outward Bound School in Eskdale in the summer of 1951. We were lucky in the fact that our dormitory was one of two that were in the house, the others being in the converted stables.

In those days, apart from the teaching of mountaineering techniques the main subjects consisted of trying to attain a qualifying standard in various field sports.

I also remember while I was there a foreign film crew there to make a short film about the aims of the Outward Bound. At the time we were being taught mountain rescue methods. I was on a stretcher which was on runners that was being lowered down a rock face when along came the film crew. It seems they wanted to add a little more glamour to proceedings so I was pulled back up, taken off the stretcher and the outward bound nurse who they'd brought along was put on in my place. Happy Days.

In the photo I am first from the left in the top row .The instructor whose name along with many of the others I've forgotten is sitting third from the left. I've often wondered how they got on.