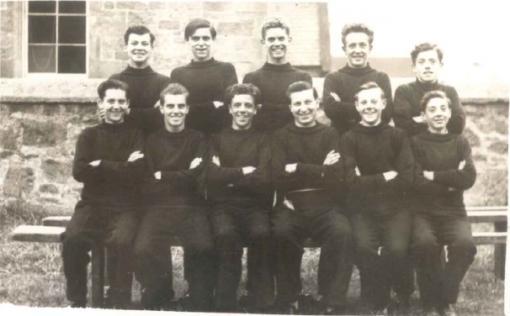 In April 1950 I was in my first job after leaving school in the Laboratory of Blochairn Steel Works in Glasgow which was part of Colvilles Steel Works, when I was asked if I would like to go for a month to the Moray Outward Bound Sea School at Burghead in Morayshire, I have no idea why I was picked, but I immediately said yes (as it was free and I am a Scot) and I experienced the most wonderful month of my life, and it still holds good and I am now approaching 80 years of age.

I met up in Glasgow with some others on the trip and travelled to Inverness by train and on to Burghead by bus, on arrival at the school we found other lads from around the country making I think(this word will appear frequently at my age) 14 rather bewildered souls wondering what in Gods name they had let themselves in for.

The school was based in an old school or church hall in the town, as new dormitories were being built on the outskirts of the town but were not complete, we at this point couldn't have cared less as all we wanted was something to eat and a bed and as I recall the food was good and there was plenty of it.

The first morning we had a " medical" which by today's standard was extremely elementary, for example, your lung capacity was measured by having a tape measure held round your chest and asked to breath in, measured and the difference, if any was, A you were alive or B if it was 4 inches or more you were a budding athlete, no sophisticated instruments here.

Of the lads there I can only remember two names John Shannon and Campbell Reid , John came from the Govan area of Glasgow and was nicknamed Stamina for obvious reasons as we found out over the month.

We went on various expeditions, some of which I recall produced some hilarious moments although some did not seem funny at the time.

I remember our "cruise" on the Prince Louis when we visited some ports around the Moray Firth including Banff. On our way there we hit some stormy weather and all the crew except myself were seasick and since I was the only one able even walk, I was delegated the job of cook, and I assure you a cook, I am not, however after 15 minutes and a couple sandwiches I joined the ranks of the retching much to the annoyance of the skipper and the bosun.I didn't realise that in these conditions you stay on deck, at all times, I have remembered that to this day although I have never revealed my secret.

When we eventually got into the harbour the tide was on the way out and we grounded and had to tie up at 45 degrees to the harbour wall meaning we had to climb along the bowsprit to get ashore. It was the Banff Festival when we were there and we were all invited to a dance in the local hall. Being young lads we were all eager to attend, so we all clambered along the bowsprit (no Health and Safety in these days) and off to the dance. We all returned safely and fell asleep in our bunks, at some unearthly hour we were all either, jammed at the back of our bunks or tipped onto the floor when the boat tilted over as the tide went out, I can tell you there was no women and children first as us city boys scrambled up that ladder, it's funny now but it wasn't then.

The second incident I recall was when we were on our expedition in which we had to cycle 5 miles, hike 5 miles and finish by walking on roads for 5 miles to a point where were picked we were picked up by bus and taken back to base. We were on the third part of the journey,walking along a road and you can imagine in today's parlance we were knackered ,when we came across a local worthy and asked how far it was to some village we had to reach , his reply was " och laddie it's jist alang this road a wee bitty yull be there in aboot five meenits" for non Scots this means " don't be alarmed son, it is just along this road a short distance and you will reach it in about five minutes" almost an hour and about four miles later we arrived "doon the road a wee bitty.

After I had been at the school for a couple of days I met one of the local girls and formed an acquaintance with her, I think her father owned a shop in the town. One evening, after having seen her for a few days she told me that she recognised me from having seen me on the beach from her bedroom window every morning. I should explain, when we arrived at the Sea School we were given the option of a cold shower if the weather was inclement, or a dip in the sea. For some strange reason despite some cold and wet mornings, the shower was never an option and it was, on the beach naked at 6.30am every day .You can imagine this came as an embarrassing shock, to me and needless to say every morning after that I wore my swimming trunks, but despite a lot of questions I never explained to the other lads why. I didn't want to spoil the girls fun!

I have reminisced long enough and I will close by saying that the Moray Sea School was, without doubt one, of the best experiences of my life and I have never been fitter than I was on my return.

Nothing would please me more than for someone to read this and get in contact with me particularly John Shannon or Campbell Reid, if they are still with us....

Jim McIntosh

To take a look at some of Jim's photos from his time on his OB course at Moray, please click here to take a look at our Moray Gallery on Flickr...