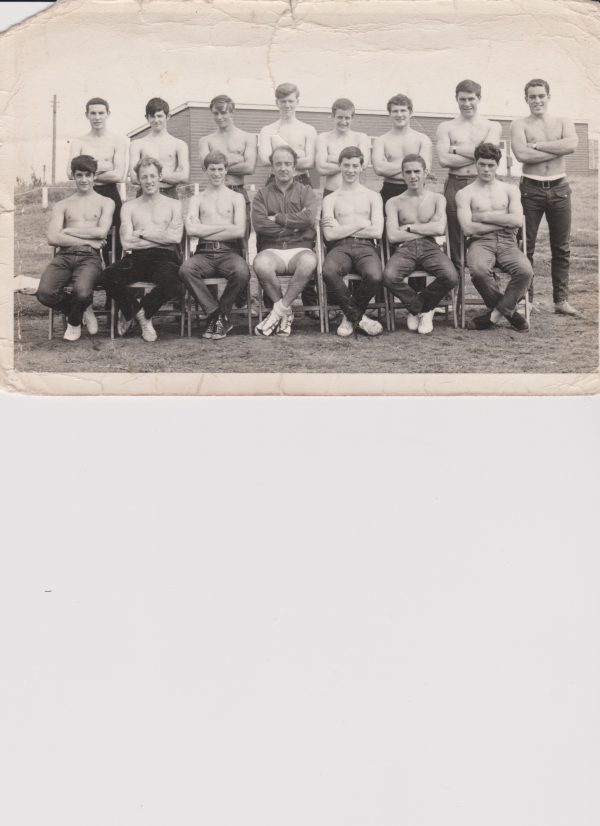 Outward Bound Moray Sea School. Course M182. 26th August to 21st September 1968. Drake Watch
Back row, L to R: 'Scottie', 'George', Shane, 'Lanc', Pete, George, John (Mad Mitch), John
Front row L to R: Ian (Pruce), Brian (Buckets), Gill or Scouse, Boss or Warden, 'Pancake', Neil, 'Army'.

The names are how we called each other so not all that helpful.
The weather as I recall was very warm. The British Olympic hockey team were there for training.

Typical day started at 0630 with a run up and down around coloured markers in a sand dune, in climbing boots! Cold shower; arms high. Then chores, get dressed and breakfast. No smoking, no drinking, no girls. For a month.
Activities included: PE, climbing, swimming, sailing, lifeboat drill, hill walking and camping. Everything with a smile! PE had two rest positions; running on the spot or laying flat, but always smiling. Swimming in the pool at Gordonstoun School with rest position 1 involving back to poolside kicking legs or floating. Yep, with a smile. We travelled everywhere in the back of an army truck with singing all the way.
Tested to the limit? No but enough to know that there are no limits other than those we set ourselves. I am grateful to have had the opportunity to attend.