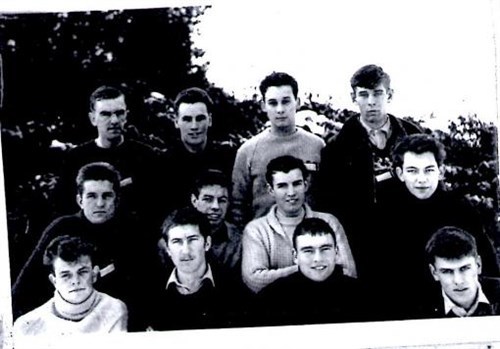 MEMORIES FROM 1962, ULLSWATER, COURSE U74
FROM 19TH NOVEMBER TO 15TH DECEMBER 1962

The rain was coming down in buckets at Carnforth Railway Station. It was pitch black and I was on my way to the Outward Bound Mountain School at Ullswater. It was November 1962, I was 18 years old, away from home for the first time and my close companion was Trepidation. I wouldn't have believed I was going to have a good time and return with memories for a life-time.

Trepidation! I was right. When I went Rock Climbing for the first time our leader, Campbell Whalley, was above me, as I was on the rock face, with the necessary three points of contact. I did not know what to do with my spare hand. Campbell informed me there was a tiny crack to my left which would take my middle finger. I could not believe that I would be safe with such a small grip. It took him some time to convince me that I would survive. To my surprise I was safe and that little bit of confidence lasted all day.

My next memory was of Canoeing on Ullswater. I was in a two man canoe and we were learning how to Slalom. Of course we ended up in the water. Luckily Campbell had showed the Patrol how to form a life raft and he instructed the rest to form one. When I dared put my feet down onto the water bed it was only six inches deep!

At the end of the second week we went on a Three Day Expedition. At the end of the first day we pitched our tents and by 1700 hours we were all in our sleeping bags. Fifteen hours later when I woke up I was informed by Campbell that it was the first time on the course that I did not have black bags under my eyes!

The last thing I can remember was the Final Expedition which took place in Arctic conditions with teams of 4. When we woke up after our first night out, the two tents were frozen as were 4 pairs of boots which had been left outside overnight. We had to wait for these to de-ice before we could wear the boots and pack-away the tents and continue on our way. We walked to the top of Helvellyn without being able to see our hands in front of our faces. When we descended and reached the road we were informed by other patrols that the tops had been Out of Bounds for the last two days -unknown to us!

Finally, after washing-up on the last day, we were taken, cheering as we left the School, to the Railway Station for our onward journeys home. I said to myself "One day' I will return but BY CAR! This I did on Tuesday, 12th July 2011.

I will always be grateful to the School and especially Campbell for what I found about myself during those 4 weeks.

Gordon Leslie Boyes, former Police Cadet with Bradford City Police.