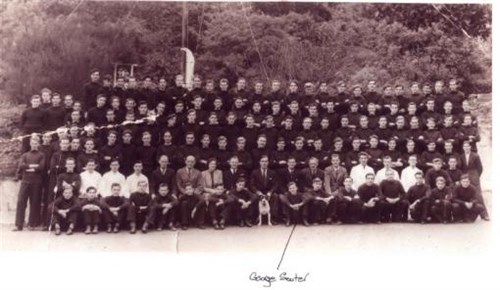 Outward Bound Sea School - Aberdovey
Course 99
Sponsored by George Whitbread & Co. Ltd

On a bright sunny spring morning in 1950 I was summoned into the office of Mr Ronnie Oliver, Commercial Director of Whitbread & Co, who asked me if I would be interested in going to the Outward Bound Sea School in Wales for a month's activities. What does a sixteen year old say to that!

The Company paid the fees, railway fares, and for all the clothing and equipment that would be required. They even went as far as providing me with pocket money. (That was the first time anybody outside my family had contributed to my meagre funds!)
Whitbread's were, and I hope that they still are, paternalistic. I was in a family firm, headed by Colonel "Bill" Whitbread, and I really felt that they called tremendously about their young members of staff and their future welfare.

So off I went on this great adventure. Being a member of the Scouting movement undoubtedly helped in settling down quickly to the routine and making friends from boys from all differing backgrounds and cultures. We were allocated to "Watches" so started the camaraderie that built up very quickly indeed. There were from memory some 120 boys on the course. Seamanship and athletics were the order of the day, no football, rugby or cricket allowed.

We really had the times of our lives, sailing out into the Irish sea on board the "Garibaldi" an old Spanish onion boat I believe. We had to stay out for longer than had been planned because the ship could not get back over the bar into Aberdovey because of bad weather.
We relished the competition of the athletics programme, participating in activities that not many of us had done before, javelin and discus throwing, and putting the shot. The five mile walking race and the trekking round Snowdonia certainly tested our endurance.

There were other allocated duties, such as being part of the coast guards for the area and indeed the fire brigade. I recall that after a hard day out the fire brigade were called out at 2am to a fire some miles away where an Army Camp hut had caught fire. There were no injuries but the incident was reported in a National newspaper the next day.

One of the instructors at the school had a passion for building Red Indian type canoes, beautifully crafted and painted. He also, and I believe it was him, taught us many sea shanties and so it was that Wilfred Pickles and his wife Mabel together with Barney Colehan came to the school with the radio programme "Have a go"
I believe it was in 1955 or 1956 that a reunion was organised by the Trust and held at Goldsmith Hall in London. It was at this gathering when it was decided that an "Outward Bound Sea School Tie" would be produced. Unfortunately my tie is no longer having seen better days, however I'm prepared to purchase a new one!