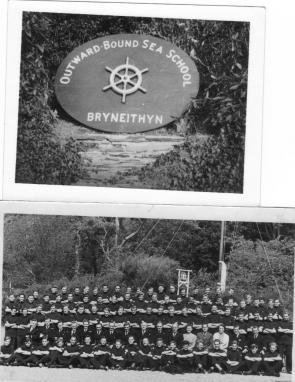 I was nine years of age when the Second World War was declared in September 1939.

Apart from watching air-raid shelters being built in our local park, and also in our back-yard, lads like me, felt little had changed much.

Then we watched as those young men and women who were at the right age, were called into military service, this included my two brothers into the army and my sister into the RAF.

Those of us left at home suffered the bombing during the blitz of Liverpool and surrounding areas. There were many sleepless nights, seeing homes and other buildings destroyed, including school buildings, and much more too horrific to mention in this paper.

I left school at the age of 14 years and entered employment as an apprentice printer. This did not last, due to a foreman who for some reason took an instant dislike of me, and bullied me constantly. I cannot be sure why, and there was nothing I could do about it.

As it turned out I obtained a job in the Town Hall, Public Health Department, which not only was better pay, but all of the staff were friendly and helpful, and I enjoyed the work.

I was now 16 years of age but still not content with what I was doing. My brother Gerald was in the Merchant Navy and I used to listen to him telling of the many countries he sailed too. I began to want much of the same thing and heard about the Blue Funnel Line shipping company in Liverpool who took on apprentice Bridge Officer Cadets and apprentice Deck Officer Cadets. I applied for the latter and was told I should first attend the Outward Bound Sea Training School for one month which was in Aberdovey in mid Wales. This I did and was accepted.

I arrived in the November along with boys who had similar ideas for their future careers. The bulk of these were billeted in the main building and the rest, including myself were sent down the road to a very old building which was named 'Bryneithyn'. After unpacking what little we had, we then marched down the road, back to the main building.

On arrival we all had to report to the Captain who was the Commander of the school training, with his staff of Merchant Navy officers. They were on leave for a period of time after suffered from effects of their ships being sunk by German submarine's, commonly known as U.boats.

These Merchant Navy officers were given leave to recover and then sent to the Outward Bound Sea School to train us lads to know about ships, sailing, rope work etc.

Fitness training, including a trek of twenty-eight miles through the mountains (the Happy Valley Mountain Range in Mid-Wales) without a compass!

Officers kept watch at certain points of the trek to make sure we were not tempted to divert to an easier route! We never saw where they were, but they knew every move we made. I was given the leadership of what was known as a 'Watch'. This was usually about 15 lads who I had charge of, and was responsible for making sure they all did the duties given to them in every aspect of the training. This included keeping the huts we all lived in, clean and tidy. This was watched very carefully by the officers. The hut I had with the lads was an old barn and it was situated about two miles from the Outward Bound School Centre. This meant we had to rise that much earlier each morning and march the two miles to the Centre for breakfast. At the end of the days training, followed by the evening meal plus lectures, then march back to our sleeping quarters for a well- earned good night's sleep!

One of the officers was not ex-navy. His name, Dr Zimmerman was a German gentleman who had trained many of the German athletes for the first Olympic game's held in Germany during the 1930's. He certainly made sure we all did everything to perfection. By the end of the course we really knew what it was to be, really fit and healthy!

The best part of all the training was sailing a 100 ton Ketch named the 'Garibaldi'. We sailed out of the River Dovey and into the Irish Sea for two days and one night. Apart from those who suffered sea-sickness we all enjoyed the experience and certainly knew and respected the sea more than we had ever done before.

The other many aspects of training started every morning at 6-30a.m. We were awakened by an officer, who made us all shower under a water-fall of icy cold water straight off the mountains above us, in winter or summer. We were soon awake and ready for breakfast after that!!

Much of the training included Javelin throwing at a set distance, putting the weight, this was a heavy lead ball which you threw from shoulder height as far as you could, you had to reach a set line to obtain a pass.

Crossing a line ( a ships very thick rope used to hold the ship's in dock) hung from one tree to another. We had to climb on top of the rope-line and then, pull ourselves along the full length of it, a distance of nine metre's. The test was that you must remain on top of the rope for the whole distance.

At all times during every aspect of training we were watched and advised by an officer to ensure that no-one got hurt.

To achieve so much within one month made all of us boys feel very proud and with a sense that there was nothing we could not achieve, as long as we put the same effort into it as we had done at the Outward Bound Sea School.

At the end of training I received a "Silver" medal. I didn't quite make the 'Gold' but I was happy because my over-all report was excellent

National Service was still in operation during those years and soon after leaving the Outward Bound I received my 'call-up' papers!

I entered the RAF and was sent for eight weeks initial training.

This meant sleeping in a Nissan Hut with 24 other recruits. Within twenty-four hours the Corporal in charge selected me as 'senior man' after he read my report from the Outward Bound School.

I managed to get the lads in my hut to work hard keeping their kit in uniform order, and weapons cleaned regularly and ready for action. This made the lads happy because at the end of the forth week, the best turned out hut and men, were allowed a long weekend pass, while the lads in the other huts had to stay in barracks!!! ( I have always been convinced that this was all due to my training with the Outward Bound and nothing else)!!!

Two years I spent with the Royal Air Force, stationed with the occupation forces in Germany and again, enjoyed every minute of that time.

I was responsible for the running of the 'sick-quarters' under the over-all charge of the Medical Officer. The building had an out-patient and in-patient area, plus an operating theatre. We were on 'stand-by' most of the time, due to RAF aircraft landing and taking off frequently all day, and some hours of every night.

I have now reached the age of 86 years and remain reasonably fit both mentally and physically. ( I should check with my wife about that statement)!!!

I shall always feel very grateful to the Outward Bound training I received in 1946. Without this training I am sure I would not have succeeded, or achieved so much, giving me the satisfaction I feel to this day, with my life so far.