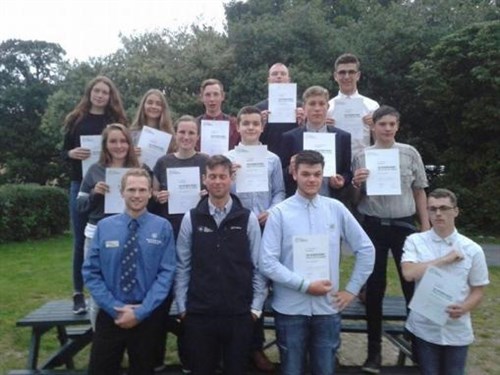 In the summer of 2015 on July 27th I travelled to the Lake district and took on my next challenge an amazing 19 day course at Ullswater, where here I had to work with 11 other people from all over the world this was really exciting but at the same time scary as I had to come out of my comfort zone. At the start of the course the head of the center Tom spilt us up into 3 different groups I was placed in team Tenzing under the leadership of two of the greatest instructors Andy Bennett and Andrew Diazmen. Through the 19 days I was pushed to the limit taking on new things and building on skills I already had.

The biggest achievement for me during the 19 days were taking on the summit of Striddings edge as I was afraid of heights but despite this I was driven on by my team and instructors and eventually I got over my fear. I also Gorge walked up Freeze Beck harnessed to a rope. During the course there were two four day expeditions, both of these expeditions were challenging but were a great success. This is where I felt the most useful to my group due to me completing my Duke of Edinburgh bronze and completing my Gold award.

The first expedition all of my team, team Tenzing were together and was accompanied by our two instructors taking in the summit of Helvllyn and striding's edge. Plotting routes and navigating with a map and compass in pairs to prove that we had what it took to got out independently on our own on the second expedition. During this expedition we were pushed to the limit and failure was definitely not an option everyone had to take responsibility for things going wrong and had to facilitate and lead the team through difficult circumstances to ensure success was achieved. To ensure success was achieved we were told to follow Covey's 7 habit's if anything went wrong to ensure that things go put back on track.

This expedition proved to be a success and on the last night of the expedition we were accompanied to our final camp site by our instructor Andy but then we were left on our own to cook our own ration packs, set up tents and get up the next day ready to meet our instructors at the final check point. As a duke of Edinburgh participant my team decide that me and other d of e participant called James were to be the navigators and take charge of the map and compass. To complete the last leg of the journey team Tenzing had to row back to the Ullswater center despite planning to sail back which was not an option due to there being no wind, which would have made it impossible to sail. We all made it back in one piece and this marked the start of a successful turning point for the team as a whole unit.

The second expedition was a little different from the first expedition as team Tenzing was spilt into two smaller groups for the very first time. This time rather than all of the group take responsibility for the route cards and packing it was down to the two groups as individuals. Once the groups had made their route cards and packed we had to pitch our routes and answer and questions regarding the route to a panel of judges this included the head of the center and Tom who was over seeing the skills for life course. Only once we got the all clear we could set off on our expedition, again I was appointed navigator however all of our team took it in turns and each member took on what they felt to be most comfortable. This ensured that everyone pulled their weight to ensure that expedition was a success despite there being a few times when we wanted to turn back. The highlight of this expedition was camping in a farmer's field right next to a forest full of poisonous adders and not knowing about it until we return back to center where Andy decided to finally tell us. The last leg of the expedition was met with hot blackcurrant and real food other than rations which was a great sight to see after living on rations for the expedition. At the last check point team Tenzing was finally reunited and became one once again, although a long sail back to center awaited with the promise of ice cream waiting.

There were a lot of tears and frustrations the final night brought a closer to Tenzings experiences at Outward Bounds along with a presentation of what was learnt in front of invited guests and members of the Outward Bounds team with tributes paid to our mentors for the 19 day course. To this day the things i learn on Outward Bounds have helped me to become a much more determined and stronger person and I miss Outward Bounds so much.