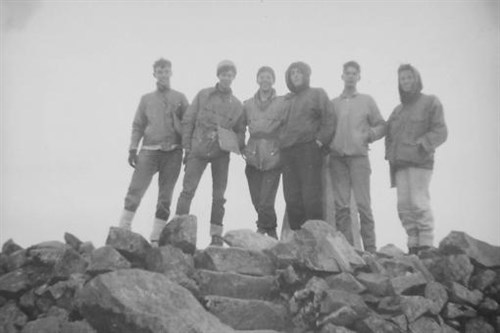 I attended Course 219 at Aberdovey in May, 1962, and was a member of Fisher Watch. The Leader was Dewi Jones and it was his first course. The photgraph is some members of the Watch at the summit of Cader Idris on a misty May afternoon.

I was sent as a Police Cadet by the Lancashire Constabulary and, sadly, I never saw my final report. I suppose the report must have been acceptable as I was not sacked and went on to work for the police in one form or another for 50 years.

Memory tells me it was an enjoyable month in Wales but there must have been highs and lows. My grey and fading photographs help me to relive the experience and the three page report I submitted to the Lancashire Constabulary (this was mandatory and I have recently found a copy) summarises all the activities of the course and what we actually did. I am embarrassed to now read that I was useless at athletics (well the jumping/throwing bit).

My over-riding memory is that it seemed to rain at least a part of every day but that may just be a myth. As Aberdovey is only a two hour drive away from where I now live I am tempted to go back and have a look at what has changed but I am concerned revisiting may "burst the bubble" I have formed.

I am pleased to be able to support the Trust so that others have the same opportunity that was given to me.