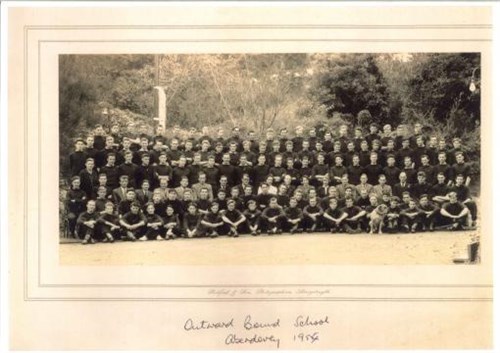 The below is an extract from David Kind's course log book, which he has kindly shared with us.

Wed., November 3, 1954

The cold shower was over and our pre-breakfast duties were carried out to the best of our abilities.

Breakfast was over at 8:45 a.m. Ready for inspection at 9 a.m. followed by parade.

After parade we marched down to the wharf ready for our sailing exam. The exam was officiated by the cheerful Mr. Hopkins. Only two lads operated the helm. The current was very strong and we soon found ourselves temporarily stranded on a sandbank. With the aid of Mr. Hopkins we were soon able to our selves free of the sandbank.

After dinner and parade we had monkey ropes and athletics.

The monkey ropes were still as strenuous as ever but once over them and a five minute rest I was over again.

From here we went to a new feature on the javelin field. This was a slack rope balance test. The slack rope was strung around the trees. We had to walk on the rope holding on by means of small pieces of string and tree branches. By the time I had reached the end I felt like a tight-rope walker.

After this test we were set on the tasks of building a bonfire for Guy Fawkes Night. This task was not at all interesting, but it lasted until tea time.

After tea we had our project exams. The questions were fairly easy but the time allowed was not adequate.

Supper was over and as usual it was lights out at 10 p.m.

In addition to these extracts, David has also compiled some additional recollections of his time on the course, which are described in detail below:

"On arriving in our huts I was wise enough to feel the "softness" of pillows available. Some were filled with what felt like hay (not horse hair) whilst some I found were padded with something cosier!

The monkey ropes were very hazardous and without safety harnesses. I was surprised no one finished up with a broken leg at the very least. We were not allowed to wear plimsolls or soft shoes, just the common leather ones of the time. This made things very difficult when traversing from tree to tree and when going across quite deep and wide terrains.

It was not uncommon when sailing in the cutter to become beach in the many sand banks, especially at low tide, and have to jump into the water to push the boat into clear water.

Looking back, abseiling was done under the safest conditions...NOT! We simply put the rope around our waists, tied in a certain way, and descended down a steep railway, cutting onto the line.

Both the two day and the 35 mile expedition were carried out with complete lack of suitable clothing, considering the terrible weather during October and November. Nobody had suitable wet weather gear. We just went out in lightweight, everyday clothes without hats or top coats. Some did choose to wear boots, but to suddenly wear them just for even a day left a few with badly blistered fee. I choose my shoes which were used for wearing at the house. For the 35 mile expedition, I managed to find an outer garment to keep off some of the rain. This was simply a cape similar to those seen in pictures of WWI soldiers in the trenches.

Climbing Cader Idris started after being dropped off in groups of 6, at various points along the road to Fairbourne. We had just a map, compass, and torch; no provisions. The mist started from about 200 feet, which made it difficult to navigate around the terrain. We did manage to get back to Aberdovey without incident, however. Being in the mountains and all of us with no experience, I often wonder how we did it, especially as landmarks were not visible in the mist and dark. Pot holes and gullies were also a hidden hazard, particularly since our only light was a bicycle torch with two of the old type U2 batteries operating it. Nevertheless a good time, and a memorable one, was had by all.

It was not until several years after attending Aberdovey that I looked back at the very special time I had at being chosen to lay a wreath on behalf of the School on the War Memorial in Aberdovey town. At the time it was simply something given to me to do, but every Remembrance Day it brings back fond memories of the Aberdovey Outward Bound School and what it gave to me.