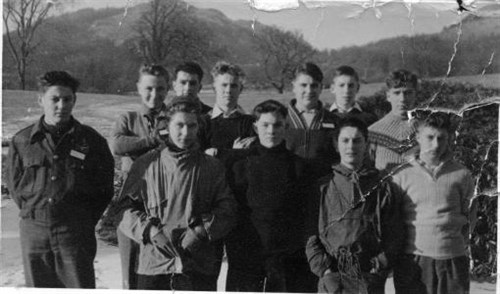 It was winter 1959, myself (that's me second from the right in the sweater with the knitted V) and one other boy from my school (Great Casterton Secondary Modern) were chosen from Rutland to take part on what I believe was the first schoolboy course. At age 15 I had never been away from my parents before. I remember very little of the four weeks I spent there, the one thing which does stand out is having cold showers in the early morning (this was in February). Tramping up Helvellyn, along Striding Edge then walking back to Ullswater was also quite memorable. Surprisingly there was very little snow as can be seen from the included photograph, I was in Whymper Patrol.
Somebody who had been to the Himalayas gave us a talk and slide show one evening where he showed us photographs of Yeti footprints.
I still have my button-hole badge which will be passed on to a grand-daughter who my wife and I parent.
I now live in Christchurch (the shaky city), New Zealand, have been here since 1973, where there is one Outward Bound School based at Anakiwa in the Marlborough Sounds at the top of the South Island. It was opened in 1962 http://www.outwardbound.co.nz/.