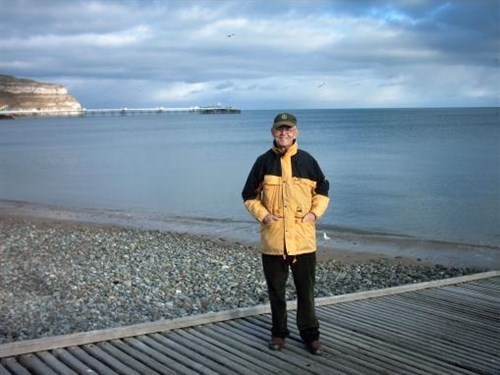 After leaving school at the age of 15 yrs, I spent 3 years in industry, I then had the opportunity to attend an Outward Bound course at Ullswater commencing pn New Years Day, 1968. The problem was the country was rife with Foot and Mouth Disease at that time and it was known that the fells were off limits.

With restricted access, I in Mallory patrol under the instruction of a Mr. Bob Godrey and a German army instructor on an attachment in UK for two courses called Herr Roland Kruger had mountain leadership training within the grounds, on the mountain passes alongside the roads. Aira Force area, canoeing on Ullswater including overnight camping on a small rocky islet at the South end of the lake was done. We hiked on roads that were not open through heavy snow (Kirkstone Pass) and gave first aid to the lady who lives at the Inn who had slightly injured herself. It was all exciting but restricted.

Squadron Leader Davies in charge of Ullswater together with his counterpart at Eskdale hired a large Army style lorry and with a coach operator from Penrith we all went to Dover and an overnight crossing to Ostend where a Belgian operator took the total of Eskdale and Ullswater school to a castle/hostel in Hollenfells, Luxembourg where we spent the best part of the course.

Our Luxembourg experience involved orienteering in the extensive woods with patrols camping unsupervised for 4 days in the Bouvange and Bissen area. The snow was heavy, it was 12 degrees below freezing and wolves howled in the night. I was at this time not too familiar with history but saw some atrocity memorials, knocked out American tanks, discarded American tin hats, bullet riddled farm buildings and on returning home realised we had been in the area of the last German breakout in December 1944 (Battle of the Bulge).

I came home feeling confident and fulfilled to commence a 32 years career in the Police in the Lancashire/Merseyside area. My career was a happy one taking me many places including an attachment to North Carolina, USA. I retired in 1999.

Since retiring I have had a successful kidney transplant, I took such an interest in the details of it all, I now, on invite attend Liverpool John Moores University and speak to the pharmaceutical students on the regime of medication.

I am still working, I still cycle good distances, hike on the fells at opportunities (Helvellyn 7 times now). I am also a Street Pastor on overnight patrols here in Southport, Merseyside, we go out as a caring/listening patrol for the homeless/disadvanatged.

I feel that the skills and confidence training from January 1968 have helped me in life, yes, 'To serve, to strive and not to yield' is still a motto I carry in my mind."

Yours faithfully, (Malcolm) David Bull. 62 yrs.

(Other patrol members:)
John Morris, Mechanic from Leicestershire.
Paul Weller, Lucas industries, Birmingham.
Peter Jordan, Banker from Kent.
Anthony Webb, Police from Cheltenham.
Christopher Mills, Police from Sussex.
Lawrence Allum, Police from Essex.
Bas Barradell, Army from Bournemouth.
Michael Tomlinson, Elec.Technician from Goole,
David Tompson, Motor Mechanic from London.