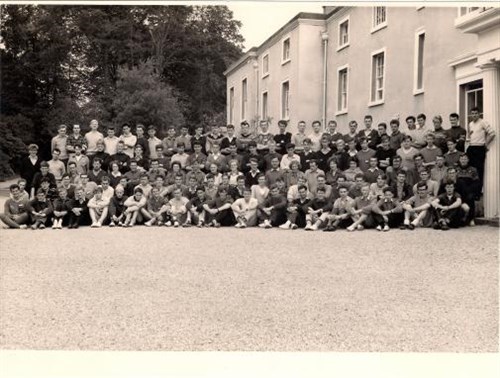 On Monday 19th September whilst travelling to Keswick I decided to visit the Outward Bound School at Watermillock. I have been to the Lake District many, many times over the years and passed the School with a car full of relatives/friends on many occasions. However, this time I was on my own and had only myself to please.

I had not been back since the end of September 1962 and as I walked towards the building it looked much smaller than I recalled. Having found my way to Reception I introduced myself and was presently surprised by the friendliness and helpfulness of the lady on reception. I explained my reason for the unannounced visit and even produced my course photograph. I was assured that it was fine just to pop in and would I like to have a wander around the house. I said yes please and after being given a visitors badge had a wander round. To be honest I couldn't remember much after all these years. There seemed to be a lot of wet youngsters running around and this reminded me of us returning back from the early morning dips in the lake at the end of the woods. A couple of well mannered lads asked me where "such and such room was" but when spotting my visitors badge politely apologised and disappeared down the corridor. (Who said kids today are impolite!)
During my chat in reception the lady said she would look in the archives for my report and upon my return I found a copy together with some course notes. As far as I can remember I had not seen my report before and it bought back many memories. Please thank her for going to all that trouble for me.

At the age of 18 years I wasn't particularly sporty but was better at long distance rather than short sprints. I will always remember one of the lads in my patrol, Doug. Dickinson I think, who was very good at sport, literally jogging beside me on the half mile urging me on and me calling him all the names under the sun!! It certainly worked though, as the record shows I made the honours time by 5 seconds.

I have not seen Doug, or any other members of Shackleton Patrol to this day and often wonder what they are doing now. I also remember with fondness our instructor Fred Loveys who was not much older than us but had a maturity beyond his years and he certainly helped our patrol get together over the short period we were there.

I am always "boring" my colleagues with tales of Outward Bound when we are walking in the Lakes, but will continue to do so as it was an important stage in my development. Long may you continue with this fine work.

David Atkinson

(With regards to the photo, I am on the second row 5th from the right and the Instructor whom I referred to is on the 3rd row 5th from the right).