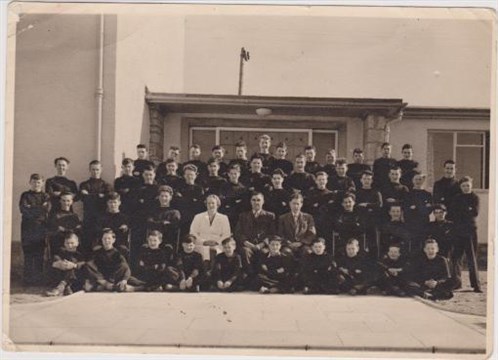 My name is Dan Gallacher and I'm proud to say I attended Moray Sea School Burghead in 1954.

I was delighted to find your website and to review the content especially the photos, they are a joy to look at and bring back so many fond memories. I have attached the one and only photograph I have (looking for one another) which was taken in 1954, I was the leader of Drake Watch. I recall most of the instructors then wore RN officer uniforms, is this correct? Unfortunately I cannot recall any of the instructors names.

The time I spent at the school was a very positive experience and moulded me for the rest of my life. I came from a large underprivileged family in Glasgow and attending Burghead was an absolute high and eye opener which became the start of the foundation I built my life on. I knew then I wanted to travel the world and I did. Shortly after leaving school I spent 6 years in the Merchant Navy and another 6 with BOAC/BA as cabin crew travelling to the far corners of the globe -experiences I would never change or have missed.

It shaped my life and career and when I retired I was the VP of Sales and Marketing of an international airline here in Canada. I credit Moray sea school for giving me the confidence to get out from under. My wife and I now live in the Niagara Peninsular in Southern Ontario Canada.

I have wonderful memories of Burghead and will from time to time intend to share them with you. I recall the visit to Gordonstoun and truly enjoyed sailing on the Prince Louis where I saw my first dolphin and its where I fell I love with sailing which I have done ever since .Up until very recently I had my own sail boat, now I sail with my son.

Such great memories, thanks to all who were and are still involved in providing this wonderful opportunity for young men.

Thank You,

Dan Gallacher

P.s - Just for the record, the guy third from the right in the second row is me!