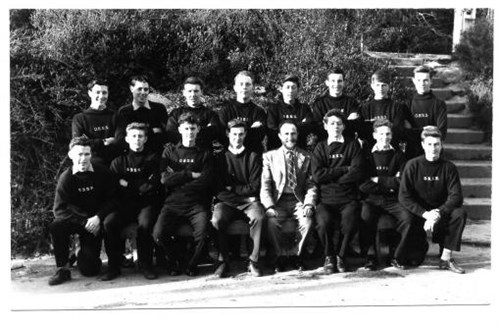 OB January 1962, fondly remembered; it was a wonderful and instructive experience.

I was sent to Aberdovey by Alfred Holt, the well-known Liverpool ship owner prior to becoming a midshipman. I think the course actually started in late December 1961. Late one afternoon several dozen lads from all over the U.K. got off the train at Aberdovey and stared aimlessly around. Seemingly from nowhere, a voice that positively crackled with authority said 'Get against that wall' and several dozen lads instantly obeyed. The voice, it turned out was a PT instructor, I think he was ex- army and his name might have been Lancaster. It was a fabulously authoritive voice, Hollywood's loss was Outward Bound's gain. For the first week or two he was the Wrath of God personified but mellowed with time.

At 5.57 a.m. he was bellowing at us to be outside for 0600 in shorts and running shoes. We were, and there was about a foot of fresh snow on the ground - Press-ups, go, I'll tell you when to stop! Then in case we weren't fully awake he lead us on a run around the hillside and back to the showers that were a pipe lead off a nearby stream. It was a pretty abrupt change from life at home!

Fourteen of us were in Fisher watch. Some of the other lads were from public schools and I soon realized they had a different outlook on life to local grammar school boys. Amongst others were some police cadets and one or more from a steelworks in Swansea. Names were:-
R.V. Jones, Mike Rogers, Roy Smith, D.R. Toskett, Peter Barrett, Peewee Green, Yogi Kilbourne, Mike Hunter, John Morris, Mike Corey (?), Edmond Cable (?), Ian MacMahon, Richard Belster, Tim Roberts.

If you weren't eating or sleeping you were moving. I well remember a hike one morning, a lovely day but bitterly cold. We had just waded across a creek and the instructor announced a break, put your packs down. How humane, how civilized! 'Right then, on your backs - leg raises.' Now all that freezing water filling our boots and pant legs had to go somewhere.............. Our trip to sea on the ketch 'Golden Valley' was very much curtailed for reasons I can't remember.

So it went, hiking, map-work, running, walking, climbing and best of all time in the 27ft whalers on the river. I loved that - it took half a gale to make them go but with 14 bodies aboard they could go. One day three whalers were neck and neck in the river but one got out of the channel and brought up all standing, pitched the masts out of her. As time went on the instructors became increasingly human and less domineering and they were excellent instructors. One was seconded from the army (left in photo) and one from the navy (bearded, on the right in the photo). The latter's first name was Mike and I had good cause to remember it.

One day the ebb was running very hard and it took a couple of goes to get the whaler alongside the wharf which greatly upset Mike ---. On the next attempt he took a flying leap at the scramble net hanging from the wharf, unfortunately didn't quite make it and got wet up to his waist. On the wharf he was dancing with rage. A recent song on the Hit Parade was 'Michael row your boat ashore' and all hands spontaneously broke into song which was less than tactful. Eventually the boat was secured and all loose gear put in the shed which I then locked. A moment later someone brought something else up to the shed. 'Which stupid bastard locked the shed?' roared the instructor. I had never previously been sworn at by an adult and rather resented it and told him so in plain terms. Nose to nose, through gritted teeth he said, 'With your attitude Anderson, when you get to sea, it will be bang bang bang until someone bangs your bloody head through the chartroom bulkhead!' Figuratively speaking, if not literally it was actually a very astute observation, I did upset a few people!

The OB course was a wonderful experience, opened one's eyes to others around you and one's own capabilities. If the OB today is half as good as it was 49 years ago it is performing a tremendous service to the youth of a very different century.

Lastly, Mike - whatever your name is, if still in the land of the living - I hope you are - bless you Sir, I never forgot your words! I spent 44 years at sea, a mostly happy and interesting career in many parts of the world. For the last twenty years I was master of survey and research ships; possibly when tempted to chew somebody out I heard an echo from the past. In the photo I am back row, furthest right. The head of hair is but a distant memory but my attitude is still fairly intact.