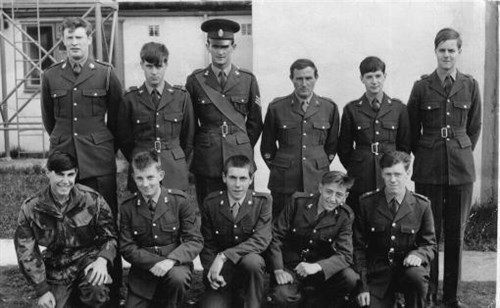 In 1967, I was with the Junior Parachute Company, attached to the Depot, The parachute Regiment, based in Aldershot. Myself and two others were sent to Towyn at Easter time.

I was in Lowe Patrol.

Not wishing to boast, but because the Parachute regiment's training was so comprehensive, I was unbeaten (in my patrol) on the assault course and the 100, 220, 440, and 880yds races.

The food was excellent and a lie-in until 7am was a luxury.

I enjoyed every minute of the course, even the run to the sea, and into the sea, and the run back, before breakfast. We undertook kayaking, rock climbing at Llanberis pass, (near Snowdon), in the rain, mountain climbing (Snowdon) in dense fog, along the ridge.
We practised mountain rescue with a stretcher. Final drop over the edge was me, strapped in and dangling at 100 feet, then carried back to camp. Tough going for those doing the carrying.

The final challenge was 50 mile mountain hike in groups of three. We climbed in excess of 29,000 ft, in total and made a large figure of eight around the mountains, sleeping in tents. We climbed Cader Idris in a hail storm. On our return to camp we had to undertake a whole host of tough physical exercises before we were allowed to shower and change and eat.

I passed the course with a C, as did about 95% of all attendees. B was rare, an A, never happened.
On my return to Aldershot, we were summoned to the Colonel's office and congratulated on our achievements.

Three of the best and most memorable weeks of my life.