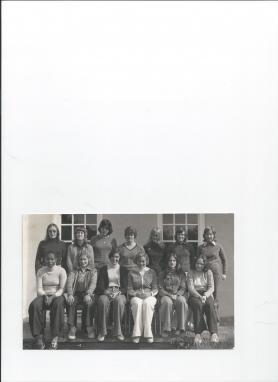 My course was from 15th September to 11th October 1975.
I was 18 when I attended my 4 week outward bound course at Rhowniar Wales.
My course was paid for by the NatWest Bank where I had been working since leaving school. My boss having one day called me into her office and telling me I was going on a 4 week adventure course and it would help develop me into a confident character.
Having never been away from home and never been on a train I was very nervous to undertake my train journey from Manchester. The journey from Manchester to Towyn was via Chester and Machynlleth and then on to Towyn. As I travelled I was gradually joined by loads of other girls all heading for the outward bound course and a lot of them were police cadets from forces all over the country.
Rhowniar was an impressive place and very well organised with girls split into different groups that would live and work together for the 4 weeks.I soon made friends with all of my group and in fact wrote to one girl Alison Price for quite a few years afterwards.
The course was an adventure to me as I had never before done any hill walking, map reading, canoeing, pot holing, rock climbing, public speaking or drama. I discovered things about myself that surprised me and which have helped me in my life.
I often talk about my experience on the course to my husband as he was my boyfriend when I attended and having spent 4 weeks apart absence did allow us to grow fonder and we have now been married 39 years.
I also wonder what became of Alison Price from Bude ,Teresa Keen ,Yvonne Tullet from Birmingham, Jan Morse from Oxford, Linda from Camberley, and Sharon from the potteries and all the other girls and I hope they went on to lead happy healthy lives made richer for their outward bound experience.
I am second from left on back row next to tutor in the attached picture.