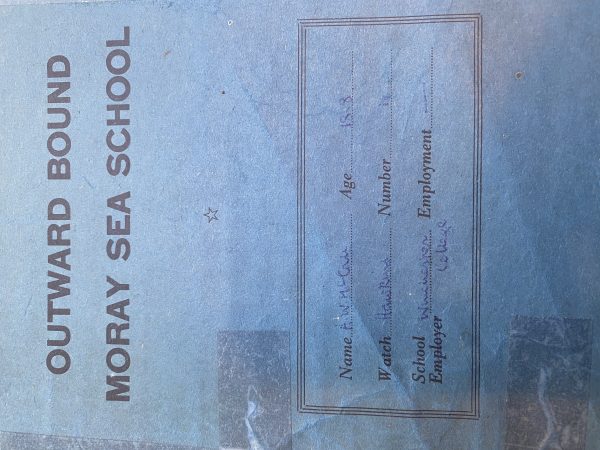 My husband, Andrew William McCall attended the Moray Sea School Outward Bound Course on the Prince Louis from 27th August 1961 to 20th (I think) September 1961. I think he would have just left Winchester College as his log book states that he was 18.8 years old.

Sadly he now has Alzheimer's and cannot recall any details although he remembers doing, and enjoying, the course. However, I do have his hand written log book which makes interesting, and often very amusing observations about the course, the Captain, Warden and his fellow participants.

I am passing his log book to our grandsons but before doing so I want to try and add some history about the school and, if possible, a photograph which shows him and his fellow participants during his time on the course.

He writes in detail about getting caught in a hurricane on 16/17 September 1961 off the Kyle of Lockalsh, Loch Nevis and Mallaig. Reading various accounts from other years I note that hurricanes are not unusual in that part of our island and at that time of year. However, I seem to remember his mother saying that it was reported in the local Mallaig press and that she had either heard or read that the ship had gone down in the storm. Andrew recalled many residents of Mallaig positioning their cars around the harbour's edge with their headlights on full the whole night so that they could keep an eye on the Prince Louis which was struggling to stay at anchor (2 anchors) just outside the harbour. She had tried and failed several times to get into the harbour but was being swept too close to the rocks.

The Warden on the Prince Louis was Mackenzie
Watch: Hawkins
Duty Officer P.T.I. Hickling
Officers: Mr. Millward and Mr. Sadler

Fellow participants:
Angus Dunlop and Mike Gardiner - both Mulburians
Graham Howells; Dick Gee; Tommy Orr; David Park; Steele (Vice Captain?); O'Dwyer; Manson and Taggart

I've been researching the history of the Prince Louis and it would appear that the Outward Bound Trust of London purchased the Bel Espoir II in 1955 as a substitute for the retired Prince Louis I and on June 30th 1955 the name 'Bel Espoir' was ceremoniously changed to the Prince Louis II in the presence of His Royal Highness Prince Philip. So I assume that Andrew was on the Prince Louis II. There does seem to be some confusion over the facts and some disagreement.