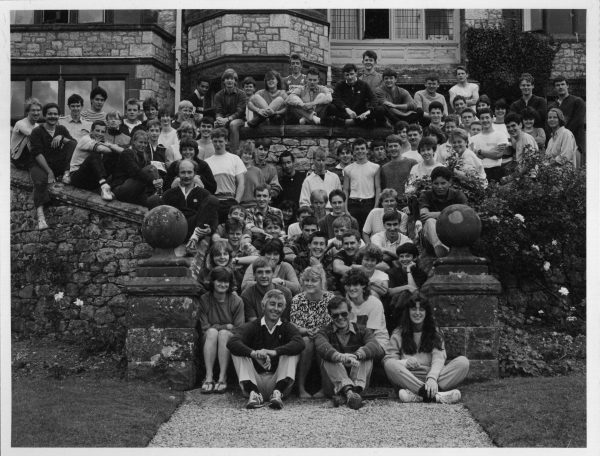 I actually did two OB courses at Eskdale, both with Nansen patrol. The first was in 1986 (E350) and the second in 1987. I was an apprentice aircraft technician at the army's Princess Marina College at the time, and I jumped at the chance to return to Eskdale when no one else wanted to go. My memories will probably merge both courses into one, but I'll do my best to distinguish each!

I vividly remember the long train journey up from home in Northamptonshire to Ravenglass, where I switched from British Rail onto the local steam railway up to Eskdale. It seemed everyone on the train was going to the OB centre, but no one knew how to get there from the station. Test number 1, I presume.

Even for 1986 the ethos seemed to be traditional, a bit 'boarding school', and there was the expectation that everyone would help out at meal times, either with serving or clearing up. There was a great emphasis on filling downtime as there was no TV or radio. We played a lot of volleyball and listened to music together, either on the record player in the common room or gathered around patrol mates who could play instruments. There was one lad called Dominic who was quite good on the guitar, as I recall.

The days were long and tiring, but a lot of fun. Each morning we were woken and had to jump out of bed for a run around the tarn, followed by a dip in the freezing water. We had to swim from one jetty to the other before darting back to the bunk room to get washed and dressed ready for breakfast.

The expeditions and activities started out quite gently but got progressively more challenging. We did three expeditions, with the third being fully self-supported with no staff present. Additionally there was 'Solo', a two day camp where you had to remain on your own within a small area (about the size of a tennis court) with minimal equipment and only basic rations. There was no stove or tent, only the burner section of the Trangia and a large sheet of polythene. We did have sleeping bags though, thankfully. On E350 we did Solo during a hurricane, and my alloted pitch was totally exposed on the slope of a moorland valley. Not very nice....

Having been on OB the year before, I knew that we would have to deal with an 'incident' as a mountain rescue drill, and I told all my patrol mates what to expect on our second expedition. We had to deal with the real thing though, as walking around the Old Man of Coniston we could hear the six blasts of a distress whistle in the distance. A group had slipped on the scree and one of them had broken their leg, so there we were: mountain rescuers for real! We pitched a tent and got a brew on whilst our PI and one other ran a few miles down the valley to the Mountain Rescue post - no mobile phones in those days of course.

The three week course was a great mix of activities and I particularly enjoyed the climbing, managing to climb quite difficult grades. I also loved the Canadian canoes on Wastwater; it just seemed so free to be on England's deepest lake, miles from anywhere, in a few sheets of folded aluminium.

I have very fond memories of a great time with a fantastic group of people. I often wonder what happened to them all, as some seemed destined for greatness (present company excluded).