The Mark Scott Leadership for Life Award
Our Award in the Current Situation
We are recruiting for 2020 - please read this and apply now!
The Mark Scott Leadership for life award in 2020
We have recruits now in 6th year, and are delighted to be recruiting from current 6th years in participating schools.
As with most areas of life, there are a number of unknowns, but we've planned a programme recognisable by past participants that is both effective and within the safety needs of Government Guidelines and the safety of our participants and their families.
The Award outcomes are retained, as will (Government Guidelines allowing) a community project and adventurous outdoor element.
The Award will be delivered through a mixture of distanced work online and appropriate 'in person' activity to create project groups throughout the autumn term.
We're planning for projects benefiting participants and communities to be run during the winter facilitated by Instructors in line with Government guidelines for CLD (Community Learning and Development).

We will then deliver an outdoor adventure and challenge element compatible with Education Guidelines, either on a daily basis, or as allowed; short expedition based or residential. In Spring 2021.
We're aware that there will need to be flexiblity in delivery to allow for the many likely national and regional developments to come.
This page (please feel free to bookmark it) will be where all information on this years' programme will be posted from - so watch this space.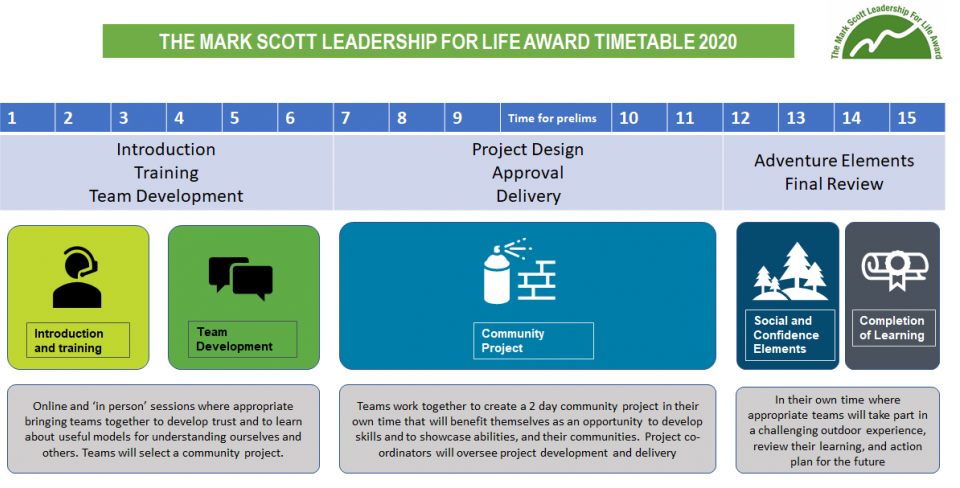 More Information on the 2020 Award
Please click the links below find out what the 2020 Award will look like - especially useful if you are thinking of applying or if you are a teacher or parent wanting to know more.
If you have any questions please don't hesitate to get in touch with the Team - we'd be happy to help -
You can email the Project manager on steve.mackenzie@outwardbound.org.uk or via the contacts page on the main site.
Champions Resources for promoting the Award internally
We have three adverts like the one above which you are free to use in any channel to promote the Award to pupils at your school. You will also find a link below to the recruitment video on our YouTube channel and champions can request a raw .ppt version for their own tailoring too - just get in touch.

School Participation Agreements & Resources for Champions, SMT's and Head Teachers
safety information and risk assessments
Recruitment Presentation (Video Version)
Please ask if you'd like the raw powerpoint version sent to you.
smackenzie@outwardbound.org.uk
We can even meet groups on Teams as a follow-up, just ask